"I Caught Them On The Security Footage" Iggy Azalea Rants At Cheating Ex Nick Young
30 June 2016, 13:45 | Updated: 30 June 2016, 13:57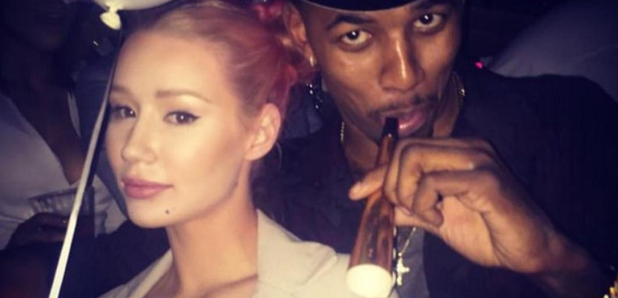 Iggy revealed the shocking reasons why she called off her engagement to the LA Lakers star who's apparently expecting another baby with his ex!
Iggy Azalea called off her engagement earlier this month following claims that Nick Young had cheated on her, and she just revealed the reasons why in a spectacular Twitter rant after it was revealed he got his ex pregnant while with Iggy!
Iggy took to Twitter to reveal that the reason she called her engagement off was because she had caught Nick with other women in their house on the CCTV footage - and she didn't know that his ex was expecting another of his kids until she read about it in the press.
I have never even been told by nick that his baby mother is pregnant so if this is true I'm finding out via E news.

— IGGY AZALEA (@IGGYAZALEA) June 30, 2016
I broke up with Nick because I found out he had brought other women into our home while I was away and caught them on the security footage.

— IGGY AZALEA (@IGGYAZALEA) June 30, 2016
This is just like a second shot to the chest. And I feel like I don't even know who the hell it is I've been loving all this time.

— IGGY AZALEA (@IGGYAZALEA) June 30, 2016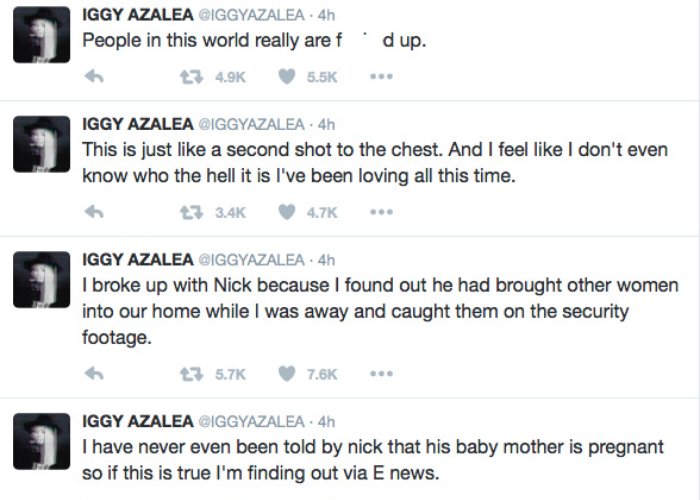 Life & Style reported that Nick had cheated on Iggy with his ex Keonna Green, who is also mother to his 4-year-old son, Nick Jr, and waited until she was four months pregnant before telling Iggy.
The source claimed, "Nick waited until Keonna was four months pregnant to tell Iggy the news. [He told Iggy] he was drunk and had a lapse in judgment.
"He said it was a one-night stand and will never happen again. This is something she can't ignore, and it ruined their future together."
The rumours had been rife about Iggy Azalea's engagement to LA Lakers star Nick Young recently after a video emerged where he appeared to admit cheating on Iggy with a 19-year-old… and Iggy confirmed that although she tried to rebuild her trust in him, she's split up with the LA Lakers star.
Iggy had been spotted multiple times without her engagement ring lately, and she took to Instagram to confirm the news that she had called off the engagement.
Iggy posted, "Unfortunately although I love Nick and have tried and tried to rebuild my trust in him - It's become apparent in the last few weeks I am unable to. I genuinely wish Nick the best. It's never easy to part ways with the person you planned you're entire future with, but futures can be rewritten and as of today mine is a blank page."
Nick also took to Twitter to confirm the news, simply posting 'Single'. Nice.
Single

— Nick Young (@NickSwagyPYoung) June 19, 2016
Iggy took to Twitter back in April to dispel rumours that she had called time on her relationship after she was spotted without her engagement ring. She tweeted:
For the record, i havent broken up with Nick. We are together and i would love to be given a little (a lot) of privacy on the matter.

— IGGY AZALEA (@IGGYAZALEA) April 19, 2016
I always answer questions honestly. But my job is to promote my music, not my relationship. Id love to be interviewed about the former only.

— IGGY AZALEA (@IGGYAZALEA) April 19, 2016
@AzaleanBae you dont need to worry about my engagement, ill wear my ring when i want and leave it at home when i want too :-)

— IGGY AZALEA (@IGGYAZALEA) April 19, 2016
Appearing on The Ellen Show the week before, Iggy told Ellen DeGeneres that she's used to hearing nasty rumours circulating the internet. "There always is [controversy], but we're good. There isn't at home, just on the internet.
"There's this really weird place on the internet where, we call them trolls… there's a lot of people that take joy in saying really awful things to people so I got a lot of that."
As well as speculation about her relationship, a lot of people were focused on the plastic surgery Iggy has had, and she openly admits having had a nose job and breast implants to boost her assets.
She revealed, "I'm very happy with it! There was nothing wrong with me but I think it's a personal choice and anybody should be able to make an informed decision. If you want to change something that's up to you.
"I changed my nose and I got boobs. I didn't have boobs before, I had nipples and now I have breasts!"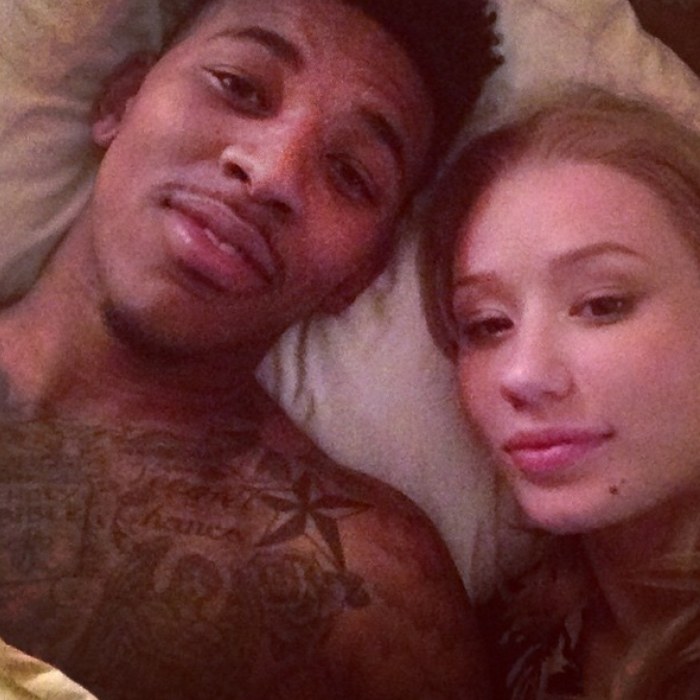 And despite being a pretty famous female rapper, Iggy also revealed that before Britney Spears could come round for lunch at Casa Azalea, some of her team had to go ahead and check out Iggy's house!
She admitted, "She's very famous, Britney Spears, and she didn't know me! We had done the collaboration for 'Pretty Girls' but we hadn't actually met before.
"So I invited her to my house for lunch and it was her first time coming over and everybody always thinks I'm like this crazy wild child rapper so she sent her guys to come check out that it was all kosher at my house!"
We hope Iggy's OK after her split - and that there's no more skeletons waiting to spill out of Swaggy Ps closet...