Example Goes Swimming With Sharks As He Shares Honeymoon Pictures
23 May 2013, 13:04
The 'Stay Awake' star married Australian model Erin McNaught last weekend.
Example has released a series of new pictures from his honeymoon with new wife Erin McNaught.

The 'Changed The Way You Kiss Me' star jetted off for a tropical vacation after tying the knot this past weekend and has been enjoying watersports and swimming with sharks on his travels so far.
"Seriously don't wanna come home. The way of life out here is so simple and so beautiful. Local beer tastes like Carling though," he tweeted earlier today (23rd May).
He has also told fans to expect many shots of him underwater swimming with various species.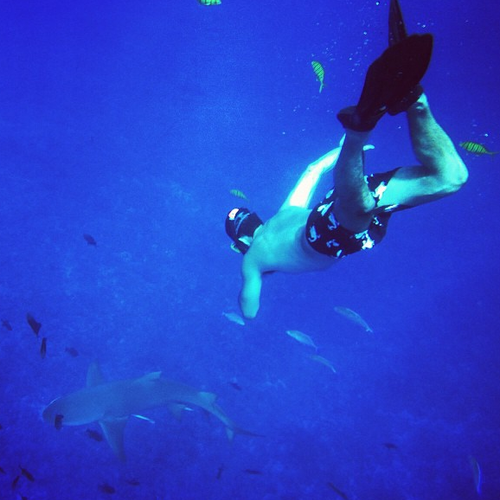 "Decided my Instagram is just gonna be underwater pics for the entire week. Deal with it," he added.
He's shared pictures "Examining the 9ft Lemon Shark," as well as on a jet-ski.
He even joked that the honeymoon is having an effect on his normal day-to-day activities.
He tweeted: "The sea is warm and clear and my wee smells of coconut. Can't really fault this place."
The couple were married out in Australia and Example told Capital last week that he had written a poem for his wedding speech.