Example Wants Collaborations With Calvin Harris and Elton John
29 May 2014, 16:51 | Updated: 30 May 2014, 13:53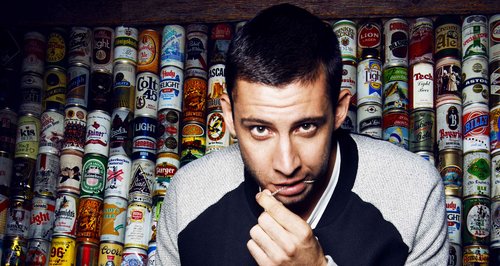 The star reveals wants to record a new track with the 'Summer' DJ.
Example has revealed that he would like to collaborate again with Calvin Harris.
The star said that their previous duet 'We'll Be Coming Back' was "great fun" but thinks Harris is too busy these days to have time to record another track.
"It would be great to do another track with Calvin," he told the Vodafone Big Top 40. "The last time we recorded a song together he was just on his way up, and now he's one of the biggest artists in the world.
"Whether or not I'm even on his radar anymore… why would you work with me if you could work with Rihanna?"
Discussing Harris's changing look over the years, admitted: "He looks great doesn't he? If you see a picture of him five or six years ago… he's a stunning man now! That lab coat he used to wear… f**king hell!"
Example also revealed that he has been contact with Elton John about teaming up on a song, explaining: "It's a shame we didn't make it happen for this album, but even if he laid down some piano chords, I could sang over it and turn it into a club track."
Example releases his new single 'One More Day (Stay With Me)' on June 22. His album 'Live Life Living' follows on June 30.
You may also like...