Eminem Is Selling ACTUAL Bricks From His Childhood Home... Because Why Not?!
24 May 2016, 12:00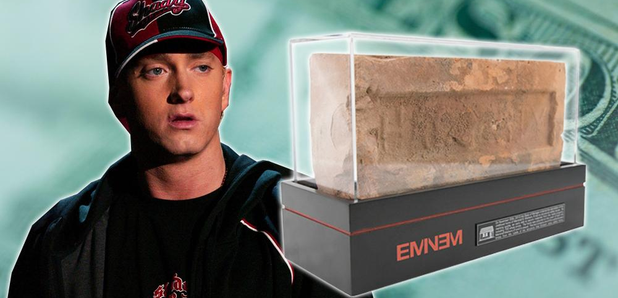 There's weird merch, then there's THIS!
Eminem's 'Marshall Mathers' LP is now so old it can play the lottery - and to celebrate its 16th anniversary, Eminem has decided to sell bricks from his childhood home.
The chunk of solid clay that witnessed much of Marshall Mathers' turbulent childhood could be yours - along with a cassette tape (can anyone actually play these anymore?) of The Marshall Mathers LP - for a smooth $313.
> 18 Of The Weirdest Pop Star Merchandise On Offer To Fans - Left Shark Onesie, Anyone?
The house featured on the album cover of Eminem's 2000 masterpiece, but was destroyed in 2013 due to structural safety issues.
Each of the 700 bricks comes number and signed by the Real Slim Shady himself.
If you want a piece of history (or a brick and an equally useful cassette tape), then now is your one shot, do not miss your chance to blow, this opportunity comes once in a lifetime.
"Own your piece of history with an authentic brick from the remains of Eminem's childhood home that was featured on The Marshall Mathers LP, and its sequel. Each of the 700 bricks comes with a numbered Certificate of Authenticity featuring Eminem's handwritten signature, and a plexiglass enclosure that features a commemorative plaque on the side. All of the one of a kind bricks come in a sleek black packaging with custom artwork and a description of the project."
To help rebuild his hometown of Detroit, part of the proceeds will be donated to Eminem's charity, The Marshall Mathers Foundation.
You May Also Like...