Eminem's Been Caught Kissing A Mystery Woman In A 'Leaked' Video But It Might Not Be What It Seems
13 February 2018, 11:30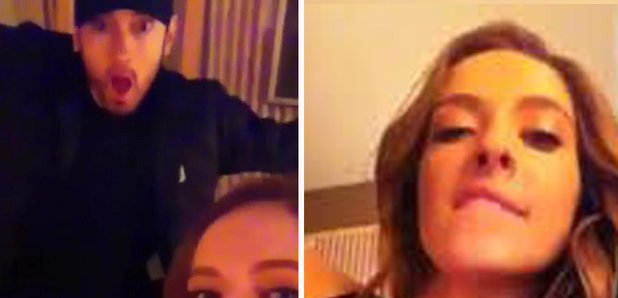 Fans have been left divided whether the footage is real or not.
New footage has leaked showing Eminem walking into a hotel room and kissing a mystery woman but fans have been left divided over whether the footage was real or not.
Given that Eminem keeps his relationships low key, fans were surprised to see the footage emerge showing a woman – revealed to be Lethal Weapon actress Sarah Ashley Toups – filming herself as he enters the hotel room and kisses her.
When he asks why she is filming them, the woman replies, "Why not? We have to document our lives, right?" before the filming abruptly cuts out, which got fans discussing whether or not the footage was real.
Its 99% River Promo

— Eminem & Shady News (@ShadyFansite) February 11, 2018
I think he's amazing and no offense I don't see him actually having a REAL relationship with a girl like her. He's more into chics with class and I'm sure doesn't want to document there whole life even though no one seems to really know who she is. She's pretty but fake acting

— Crystal Louderback (@crystallouderb2) February 10, 2018
Lmfao this is definitely for River music video. Eminem's private life has been damn private for ever since I know him, so there's no way it was coming out like this. Nice promotion Shady Records!!pic.twitter.com/quwhzgW9r3

— MATHƎRS (@LinesofEminem) February 9, 2018
That 'leaked' video of Eminem and that girl is promo for a music video. Bet my bottom dollar

— The Colossus of Clout (@chuku9_) February 11, 2018
People are really flipping out about that Eminem "leaked" hotel video.

— Shanna (@Alisharay83) February 10, 2018
Whats really annoying me is that she is recording him knowing that he likes to keep his life personal

— yareles (@yareles) February 9, 2018
Fans were quick to suggest the 'leaked' video was part of a viral marketing campaign for Eminem's upcoming music video for 'River' with Ed Sheeran after the star also teased clips which looked similar.
We're going with music video over legit leaked footage, but we're already excited for 'River' to finally drop.