Eminem's Fans: 8 Ways You Know The 'Stan' Rapper Is Your Number One
17 January 2014, 14:24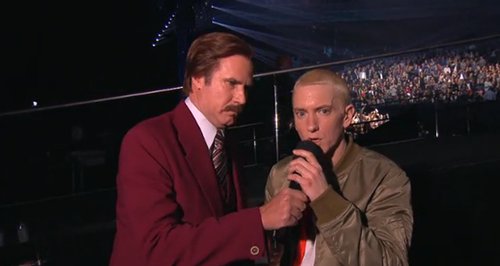 With the #BestFans2014 voting still wide open, see if you are the rapper's biggest fan.
8 studio albums, 37 singles and almost 25 years in the business. Few stars have stood the test of time quite like Eminem and his loyal fans have been there since day one.
We've taken a closer look at some of the reasons why you might consider yourself his biggest fan.
1. The only super hero for you is Rap Boy:

2. It might be a bit childish, but you do this all the time as well…

3. You love eggs - especially when they start rapping. #Egginem
4. You don't like people touching your stuff too

5. This is what you think to all those rubbish lookalikes out there

6. His EMA banter with Ron Burgundy was superb and you told everyone about it the next day.

7. When you first heard news of Eminem's latest album you were all like…

8. You too have a wicked sense of humour
Need we say anymore?