Ella Henderson Stuns Wembley Stadium With Her First #CapitalSTB Solo Performance
21 June 2014, 20:24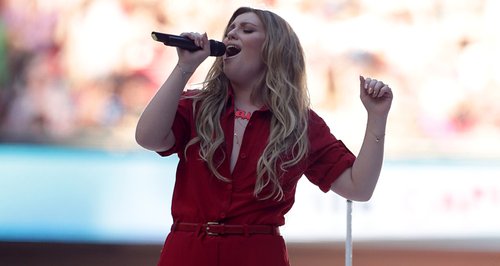 Ella Henderson took 80,000 people's breath away with her stunning performance of 'Ghost' at the Summertime Ball.
Ella Henderson had everyone in awe of her stunning vocals as she performed 'Ghost' in her first solo Summertime Ball performance at Wembley Stadium. The lady sure knows how to belt out a killer tune!
She may have come out as a guest performer last year with Labrinth, but that's nothing compared to facing 80,000 people solo - but she blew us all away with her incredible performance. That VOICE!!!
Looking totally incredible in a tailored red jumpsuit, Ella was definitely the lady of the moment as she came up from the raised stage in the middle of the crowd.
The entire stadium was singing along to her HUGE performance. She thanked the fans for shooting her first single straight to the coveted top spot, "Thank you so much, because you made my first single a number one." We LOVE her.
Ella Henderson's set list was:
Ella was buzzing for her first solo #CapitalSTB performance:
Getting ready for #CapitalSTB ... Who's ready!!?? E x pic.twitter.com/6Uq40IpNz2

— Ella Henderson (@EllaHenderson) June 21, 2014
So excited for tomoro!! 80,000 people!! Gonna be buzzing!! E x #CapitalSTB #WembleyStadium pic.twitter.com/hTNR2yZ570

— Ella Henderson (@EllaHenderson) June 20, 2014
Well thank you @edsheeran for your banter! #Backstage #CapitalSTB Haha E x pic.twitter.com/HHWW9qRyU0

— Ella Henderson (@EllaHenderson) June 20, 2014
Huge #TBT when I performed for @CapitalOfficial 's #STB with @Labrinthda1st this time last year! Time flies!! E x pic.twitter.com/Zt7EyB3XrY

— Ella Henderson (@EllaHenderson) June 19, 2014
So excited to perform at the #CapitalSTB on Saturday June 21st! Hope to see some of you there! E x #EllaAtCapitalSTB

— Ella Henderson (@EllaHenderson) June 15, 2014
Ella's fans were over the moon to see their idol at the iconic Wembley Stadium:
@EllaHenderson Can't wait to see you!!

— Zoe (@ZoeClarke14) June 15, 2014
@EllaHenderson AHHH SO SO PROUD OF U

— PreOrderChapterOne (@ShanOdonnellX) June 15, 2014
@EllaHenderson Omg, can't believe you're doing it!! Seeing my idol!!!!

— 'georgie-im5' (@im5_georgieexoo) June 15, 2014
@EllaHenderson you're going to be amazing, I can't wait

— just a reject. (@Georgia_xxxxx) June 15, 2014