Ed Sheeran, Taylor Swift And Cara Delevingne Perform At US Ambassador's House – Video
7 February 2014, 08:00 | Updated: 7 February 2014, 11:27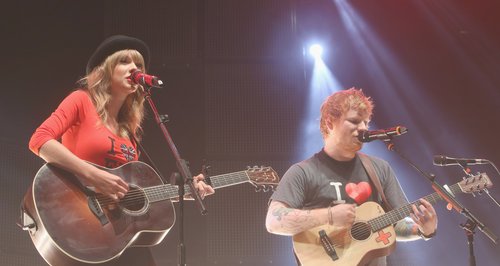 Watch the stars singing along to the song 'Heartbeats' in the Instagram post.
Ed Sheeran, Taylor Swift and Cara Delevingne took part in an impromptu performance of the song 'Heartbeats' inside the US Ambassador's house this week.
The surprise performance was posted online by Taylor, who put the clip on her Instagram account.
The track was originally recorded by The Knife but an acoustic version by José González was a huge selling single back in 2005.
"Me, Ed, Cara. Singing songs in the US ambassador's house. What is life," the country singer wrote to accompany the post.
Meanwhile, Taylor recently wrapped up three nights at London's O2 Arena, where she was joined by Ed, Sam Smith and The Script's Danny O'Donoghue on consecutive nights.
She returns to the venue for two more shows next week.