Ed Sheeran Says Pharrell Took Three Hours To Convince Him To Make 'Sing' New Single
8 April 2014, 10:31 | Updated: 8 April 2014, 10:39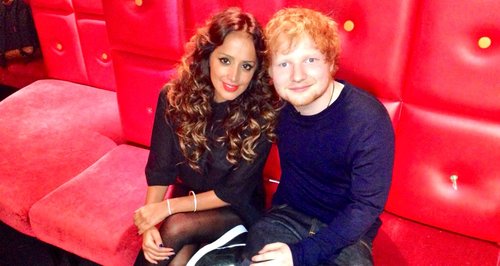 The 'You Need Me, I Don't Need You' star chats to Max about his nerves ahead of the first play.
Ed Sheeran has revealed it took Pharrell three hours in a restaurant to convince him that 'Sing' should be the first single from his new album.
The UK star's track was given its first spin on Capital last night (7th April) and Max asked him how nervous he was feeling about unveiling his new sound to the world.
Ed Sheeran Talks About Pharrell And His New Single
"I was very nervous actually," he confessed. "This was never meant to be the first single."
Speaking about his chat with the 'Get Lucky' star, he added: "I went out for dinner with Pharrell actually at Jamie Oliver's restaurant and we sat down and he spent three hours talking to me about why this song would change everything for me.
"He's a very honest guy. He's like 'dude, I've had the three biggest songs of the year, I don't need to make any more money. I don't need to have anymore hits. I'm not doing this for my own personal gain. I think it's gonna help you if this song is your first single and it's just gonna rock the boat a bit'.
"And he was totally right – I just needed convincing and it took him three hours."
Fans have been taking to Twitter to offer their praise for the track and also draw comparisons to another huge male superstar - Justin Timberlake,
'Sing' will be released on 1st June with new album 'X' following on 23rd June.
You may also like...