WATCH: Ed Sheeran On Nerves Ahead Of Wembley Shows… As Martin Garrix & More Wish Him Luck
10 July 2015, 10:02 | Updated: 10 July 2015, 14:46
Ed's about to complete three sold out nights at Wembley Stadium – so some of his celebrity friends stopped by to offer some encouragement.
He's one of the biggest stars on the planet, but selling out three nights at Wembley Stadium is still a big deal for Ed Sheeran – and some of his celeb friends have popped up to wish him luck.
The singer kicks off the first of three Wembley Stadium shows in a row tonight (10th July), and we've been chatting exclusively to Ed about his pre-show nerves for the huge achievement.
"I'm nervous about the first night and I know once I get the first night out of the way the other two are going to be really fun," Ed revealed to Global's Kevin Hughes this week. "There are certain things that I didn't really realise were happening.
"Like this morning I woke up to a text from Ryan Tedder and he was like thank you for letting us open for you at Wembley," he explained. "I was like, 'Oh yeah, OneRepublic are opening up for me!' That's pretty mad. They've been around for a while, I had their albums when I was at school. So that's cool."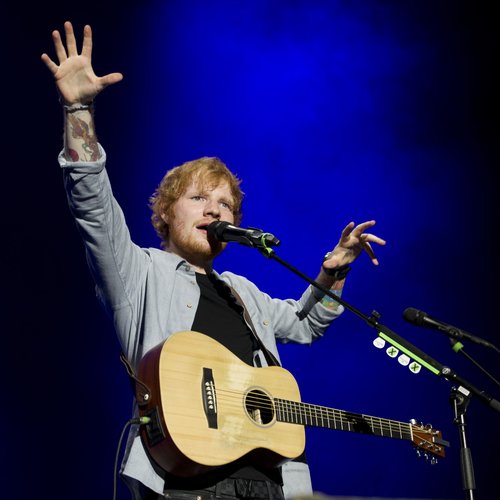 We also caught up with superstar Tori Kelly, OMI and Ed's good pal Martin Garrix this week in the lead-up to his Wembley shows to get their last minute words of advice to the UK star.
Tori Kelly, who has previously supported Ed said, "All the best to him, he's going to kill it, I know. I don't need to give him any advice or but it's just congrats, really."
Martin Garrix gave Ed advice on how to celebrate a job well done after the show – by getting on the Jaeger train! He said, "Ed doesn't need advice, he knows what he's doing. But Ed, I know you're going to rock it."
OMI added, "I want to wish you well Ed Sheeran, I'm a big fan as you know. OMI says love and respect to you, keep doing your thing."
We also quizzed Ed on a tweet he posted about guestlist for his three shows, where the star admitted the amount of people wanting to watch and catch up with him this weekend was all just getting a bit too much to cope with.
No more guest list for Wembley

— Ed Sheeran (@edsheeran) July 8, 2015
I've been away for six months and people keep in touch with me but not like regularly. I maybe get texts from five different people a day," Ed explained. "And since I got back it's just been constant, like it's all nice, it's all like, 'Hey man, hope to catch up, can I come to the gig, can I see you afterwards', but it's just a lot while doing all the promo around Wembley and going to Wembley to work out when 200 people are going to sit and how to meet them after.
"So I just kinda put a stop to it, and my feeling is if you really are my mate, you'll be OK with that, I think," he added. We reckon that's MORE than fair enough Mr. Sheeran!
We know you're going to smash it Ed – you always do!