Get Well Soon, Ed! Ed Sheeran's Been Hit By A Car While Cycling In London
16 October 2017, 12:06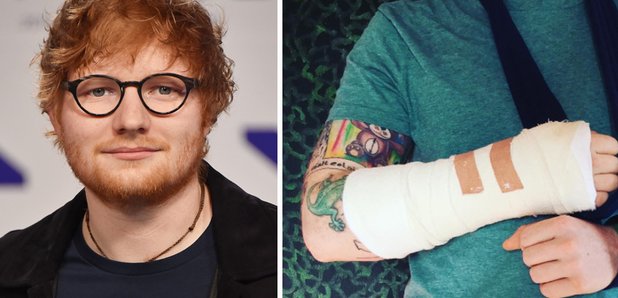 Fans have been Tweeting their support for the star.
Sources have claimed that Ed Sheeran has been involved in a car accident in London, breaking his arm after bing knocked off his push bike.
According to Nova, Ed as riding his bike through London when he was hit by a car, and is said to have suffered a broken arm but is in a stable condition.
Ed confirmed the news on Instagram, posting, "Ive had a bit of a bicycle accident and I'm currently waiting on some medical advice, which may affect some of my upcoming shows. Please stay tuned for further news. Ed x"
Ed's about to embark on a tour of Asia, but there is yet to be official word on whether his injury will result in any dates being cancelled.
Sheerios were quick to send their well wishes on Twitter after hearing the shocking news:
okay apparently the rumours are true and ed sheeran was hit by a car and I can't believe what I'm hearing

— e (@jensanackles) October 16, 2017
my poor baby :( hope he recovers soon

— kimmi (@acklesherondale) October 16, 2017
OMG! HOPE @edsheeran IS OKAY! THERE HAVE BEEN REPORTS HE HAS BEEN HIT MY A CAR WHILST HE WAS ON HIS BIKE PRAYERS ARE WILL YOU

— SwiftiesMelbourne (@SwiftiesMelb) October 16, 2017
I hope @edsheeran is okay I really hope so

— (@horanalmight) October 16, 2017
Sending all my love to Ed. Hope he recovers very soon

— Just like Jules (@julie3_anderson) October 16, 2017
What is happening!!!!!!!! Ed Sheeran has apparently been hit by a car in London! #EdSheeran

— Julia (@hungergamesjc) October 16, 2017
@edsheeran hope you recover soon

— Jasmine Fouani (@JasmineFouani) October 16, 2017
@edsheeran I really really hope you're alright love

— hannah (@alonebadlands) October 16, 2017
Wishing @edsheeran a speedy recovery I hope your ok sending positive messages and

— Sarah fary (@fary_sarah) October 16, 2017
Get well soon, Ed!