Ed Sheeran Confirms Ellie Goulding Romance Rumours: "It Was Going On And Now It's Not"
8 September 2013, 09:05 | Updated: 8 September 2013, 09:06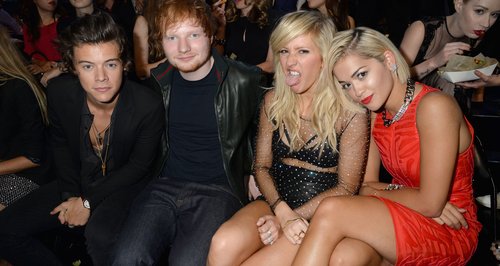 The 'A Team' star says the pair's hectic tour schedules have stopped anything more happening between them.
Ed Sheeran has confirmed rumours that he and Ellie Goulding were dating after the two were spotted holding hands at the MTV Video Music Awards 2013 two weeks ago.
The 'Lego House' singer and 'Burn' star Ellie faced a barrage of claims about a potential romance after being pictured together at the MTV event, but Ed has now finally commented on the claims and says the two were indeed dating at the time.
However, Ed goes on to say that the romance is not happening any more and that he and Ellie called things off due to their hectic touring schedules.
"I mean, normal people don't hold hands, if they're just friends," Ed revealed on US radio show Clock 98.9 recently, when asked whether rumours about the pair were true.
"It was going on," Ed confirmed, before adding: "And not it's not. I know!
"She's a really cool girl and she's real talented," he continued, before explaining: "We just tour a lot.
The 'A Team' star went on to say he doesn't really mind how his busy touring and promotional schedule often any plans in the works for romance.
"Me not doing this [dating] game means that I write a lot of songs about not doing this game, so it all works out," Ed joked.
Ed Sheeran recently revealed he is hoping to release three albums over the next three years, after claiming her has over 70 songs demoed at present.