Ed Sheeran On Damien Rice's Influence On His Career And Buying A House Near His Parents
19 January 2015, 11:05 | Updated: 5 December 2018, 17:20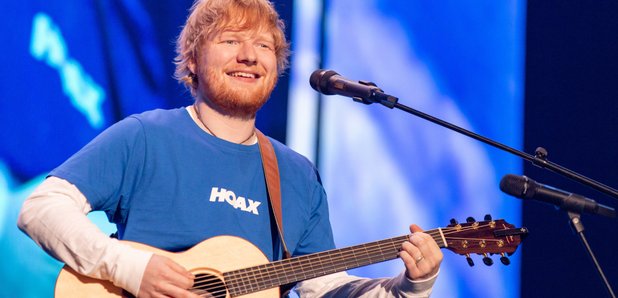 Ed has revealed that meeting Damien Rice as a teenager inspired him to follow a career in music.
Ed Sheeran is gearing up for an intimate gig for MTV on Saturday at Whelan's in Dublin, and the star revealed that the venue holds special significance for him.
Ed Sheeran Storytellers Live will see Ed perform some of his favourite songs as well as telling the audience about what inspired him to write those tracks.
Whelan's is a special venue for Ed Sheeran to perform in as he reveals it was where he first saw Damien Rice perform, which inspired his career in music.
Ed revealed, "It's amazing to come back to perform at a place that means so much to me personally. I was only about 11 or 12 years old when I saw Damien play at Whelan's, and that night literally changed my life."
"The time he spent talking with me after the show made all the difference. It inspired me in a way that I only hope to do for someone else."
The rest is history – and Ed's made a pretty darn lucrative career for himself – but Mr Sheeran is definitely one of the most grounded celebs around.
Rather than splurging on a mansion secluded away from everyone, Ed has reportedly bought himself a house near his parents' place in Framlingham in Suffolk.
According to The Sun's source, Ed has invested in a £895,000 six bedroom house which was originally built in 2011 and is made up of several different coloured bricks – like a real-life 'Lego House'!
Ed's said to have hired a landscape gardener to create a lake for his new pad, which also features a wine cellar, stables, games room and a vegetable patch. We can just picture Ed out there tending to his carrots!
The source said, "Ed has worked hard to get to where he is so he can afford to splash out on a house, and family is really important to him. He's always seen Suffolk as the place he'll set up for the rest of his life. He knows music isn't for ever."
"He's fully intending to live in this house for years. It's got everything he needs and is in the middle of nowhere, so will give him a brilliant base to chill with his girlfriend Athina Andrelos away from the madness of touring and recording. It's a nice change to see a mega star staying true to their roots."
You May Also Like: