Ed Sheeran: 15 Ways Everything Changed For The 'I See Fire' Star In 2013
27 December 2013, 00:28 | Updated: 27 March 2017, 16:31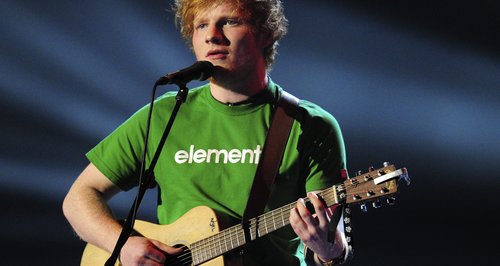 Look back on the 'I See Fire' star's truly amazing year which featured everything from superstar duets to a performance at the Grammys y'all!
Between a mammoth support slot on Taylor Swift's 'Red' tour in North America to teaming up with stars like Lupe Fiasco, Elton John and Taylor herself, it's been quite a year for everyone's favourite singer-songwriter Ed Sheeran.
Relive the 15 moments that helped Ed rise from one of the most promising young stars of the moment to THE man everyone can't stop talking about!
1. It's been an incredible year for our Ed... and kicking it off with a performance at the Grammys with ELTON FRICKING JOHN isn't exactly the worst start, right?
2. Of course Ed still paid fan service to the #Sheerios despite not releasing a full album this year... just check out this lego edition of 'Lego House' for reference!
3. The UK star even got to fulfil another dream back in May when he shared a drink with the one and only PSY as the Billboard Music Awards! #WellJell
4. One of the biggest songs of the year was Ed's beautiful team-up with touring partner Taylor Swift... and the video is guaranteed to get you welling up by the end!
[[ This video has been removed ]]
5. Not only were Ed and Taylor attached at the hip... the 'A Team' star's even been hangin' out with Ms. Selena Gomez!
6. Of course it wouldn't be right if Ed didn't record his adventures in his second favourite medium after music... a series of new tattoos!
7. It didn't hurt that EVERYONE was in awe of Ed this year... including one Christina Aguilera!
8. Ed's year was mostly taken up with joining his BFF Taylor Swift out on the road across North America for her 'Red' tour! It's not surprising the US has now well and truly fallen in love with Mr. Sheeran!
9. But Ed didn't leave his fans completely high and dry for new music... dropping the haunting 'I See Fire' in Autumn as part of The Hobbit 2 soundtrack.
10. Plus Ed managed to squeeze in a quick team-up for Lupe Fiasco's 'Old School Love'!
11. 2013 was also the year that Ed officially rounded off a TWO-AND-A-HALF-YEARS long tour! #BravoEd
12. And let's not forget Ed's A-maz-ing stage dive while performing on stage with Macklemore!
13. You've gotta believe hanging out with the Muppets on Sesame Street isn't something Ed will forget for a while!
14. Then again.. he isn't going to forget about spending Thanksgiving with Jennifer 'Rachel From Friends' Aniston anytime soon either!
16. And finally, 2013 was also the year Ed finished off work on his upcoming second studio album! Bring it on Ed, we're ready for it!