Dua Lipa's Name Has Never Been Prounounced This Badly Before
24 May 2018, 11:39 | Updated: 24 May 2018, 11:57
Literally no one in the history of planet earth ever thought this was how you say Dua Lipa's name...EVER!
When it comes to names, some people's names are pretty easy to pronounce. Craig David, Sean Paul and Taylor Swift are just a few of pop music's easier to say names - you could maybe be forgiven for pronouncing Camila Cabello wrong first time round though.
But when it comes to Dua Lipa, most people either say Doo-a-lee-pa or Dooa-leepa, unless you're American TV host Wendy Williams who uses neither and has actually created a totally unique way to say the 'New Rules' star's name.
> Dua Lipa Fans Are Creating The Best Meet & Greet Pics Of All Time
In the video above, Wendy Williams, who hosts her self titled show on US TV and is best known lately for collapsing live on air, utters Dua's name in what can only truly be descibed as the most ludicrous way ever.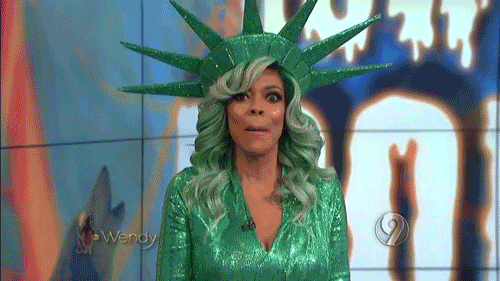 GIF: Giphy
Quizzing people about Dua's outfit on the red carpet at the recent Billboard Music Awards, Wendy asks, "OK, what do you think about DOO-LA-PEE?". Genuinely. Play the video again if you don't believe us.
How someone can get two words quite so wrong is beyond us tbh, but we're kinda grateful that she did because it's become our favourite new thing!
Thankfully Dua found the whole thing hilarious too and took to Twitter to share her reaction to the mispronunciation. In an apparent reference to Kanye West's recent 'Poopity Scoop' lyrics, Dua asked her followers, 'Is this a new kanye song?'
Is this a new kanye song? https://t.co/khm7VQYrjO

— DUA LIPA (@DUALIPA) May 23, 2018
It's definitley a new something Dua, that's for sure!
> Download Our Free App For Loads More Dua Lipa News!