Dua Lipa Fans Are Creating The Best Meet & Greet Pics Of All Time
16 April 2018, 17:15 | Updated: 16 May 2018, 15:37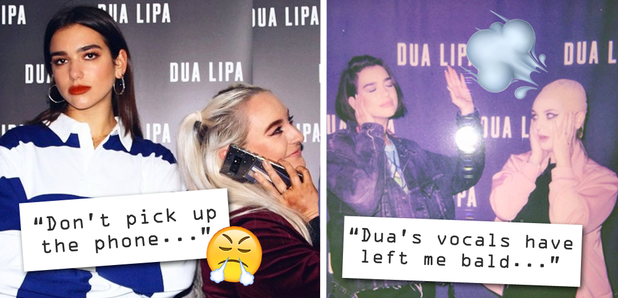 Dua Lipa has quickly become the meet & greet queen and it's making sure these fans are living their best life.
Since Dua Lipa stepped out into the pop music world back in 2015, she's rapidly risen through the ranks to become one of the most loved and sought after stars on the entire planet.
Smash hits like 'New Rules', 'Hotter Than Hell' and her latest banger 'One Kiss' alongside Calvin Harris, have seen Dua hit some serious chart heights and we're so here for it.
> Is This A Leaked Snippet Of Dua Lipa & Ariana Grande Collab 'Bad To You'?
But whilst we're pretty obsessed with the 22 year old superstar, there are a handful of fans who certainly take the crown for biggest Dua fans and recently they've been giving us some iconic moments at meet & greets.
dua's vocals have left me BALD pic.twitter.com/VchCtj0RVy

— rachael (@rachyymarshall) April 15, 2018
One of those is Rachael Marshall and alongside her friends Craig and Maria, they're creating some serious photographic magic. As the pic above shows, Dua has been getting fully involved in some incredibly well planned snaps and they've been making us lol for days.
Speaking about her experiences at Dua Lipa meet & greets, Rachael told us, "She's always so lovely and so excited. She asks how I am and we talk about her day. She asks me about my own life too and is super involved with her fans."
Rachael has been to see Dua an incredible 35 times, at the time of writing, and has watched Dua go from performing in front of 40 people in Glasgow back in January 2016 to lining up a show at the SSE Hydro with a 13,000 capacity.
name a more iconic duo. I'll wait @DUALIPA pic.twitter.com/RMCN6F8Mhv

— Craig (@Craigizzle) November 13, 2017
Having travelled across Europe to see Dua strut her stuff, you may wonder just how someone could not only get the time off work to go to 35 shows, but also be able to afford the flights and tickets! Well Rachael owes that all to a very flexible manager and a good relationship with her ex.
"It's actually quite easy for me to get the time off," said Rachael who works for Pets At Home, "I've got a very flexible manager and they know what I'm like with Dua."
When it comes to the money, Rachael reveals that tickets are becoming much more difficult to get hold of as Dua's popularity surges. "The frst time, on the 'Hotter Than Hell Tour', I could buy a ticket each month because they didn't sell out," she told us, "But this recent tour was different and I had to get meet & greet tickets too".
Sipping some HOT tea with my fav @DUALIPA pic.twitter.com/K53jR6VGkN

— Maria Sonia (@maria_slarmada) April 15, 2018
"My ex actually leant me the money for the tickets and he's a really good friend, so I've paid him back over time."
Whilst Rachael has built up a great relationship with Dua, which has seen the 'IDGAF' singer tweet her on a number of occasions, Dua has also been kind enough to help other fans out.
"When I went to Dua's show in Berlin, one of my friend's from Amsterdam forgot his ticket and so Dua helped out and got him guestlisted," Rachael revealed, proving that Dua's down to earth pop star status is truly justified.
pre album tour: cologne (08/04/17) pic.twitter.com/bSBpZhnj6X

— rachael (@rachyymarshall) April 10, 2017
HTH tour date 4: Brussels (14/10/16) pic.twitter.com/pbQGV2m6J8

— rachael (@rachyymarshall) October 15, 2016
the self-titled tour date 1: brighton (05/10/2017) pic.twitter.com/OoyHkpDbG2

— rachael (@rachyymarshall) October 9, 2017
Whilst Rachael, Craig and Maria have all managed to get epic pics with Dua, there is no competition between the trio and they all discuss their ideas and plans for upcoming meet & greets with each other, supporting one another when they post their snaps on social media too.
the self-titled tour date 2: manchester (10/10/2017) pic.twitter.com/s2dXtgDWVb

— rachael (@rachyymarshall) October 15, 2017
Claiming that her fave Dua pic is her 'New Rules' pose with the phones (above), Rachael told us that she's got a very special setup planned when she sees Dua in London soon and we actually think it could be the pair's best yet!
> Download Our Free App For Loads More Dua Chat!
Whilst you're here, check out Dua's stunning performance of 'New Rules' at the #CapitalJBB...