You Can Now Buy Drake's Never-Before-Seen Throwback Lyric Book & Basically Become The New 6 God
27 February 2018, 11:03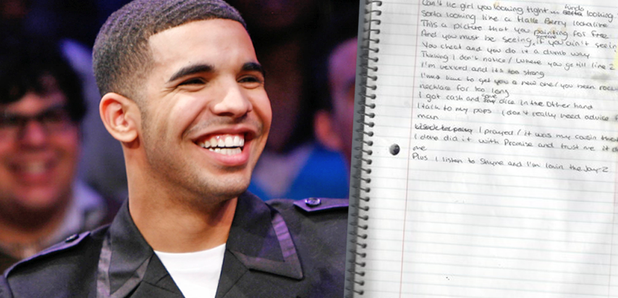 This notebook is up for auction and it's fair to say that the price is already looking very, very healthy!
As one of the biggest selling artists in music history, Drake is a pretty special guy! His songs have soundtracked so many memorable moments for people and his lyrics have warmed the hearts of many more.
So how would you like the chance to get your hands on some unheard Drake lyrics and pretty much turn into a rap God?
> Drake Accused Of Stealing New Single's Artwork... And The Evidence Looks Pretty Legit!
Well Drake's original lyric book from when he was a young actor starring on the TV show 'Degrassi' is now on sale and you can legitimately get your hands on it.
The notepad features a tonne of unheard and unrecorded songs, including a brilliant rewroking of Notorious BIG's classic rap track 'Ten Crack Commandments'.
For the pricely sum of $54,000 (at the time of writing), you can grab a piece of Hip Hop memorabilia that has never been seen before. If you do have that kind of cash spare, maybe you could lend us a few quid too, maybe?
The notebook was almost thrown away until it was discovered at Drake's Grandfather's furniture factory in his hometown of Toronto and put up for auction at Moments In Time auction house.
So if you're the ultimate Drake fan or know someone who thinks they are, this could be the chance to really prove your status and own a piece of music history at the same time.
> Download Our Fancy New App For All The Latest Drake Chat!
Whilst you're here, check out this round up video of Drake over the years...