Drake Disses Chris Brown In New Song '5AM In Toronto'? – Audio
8 March 2013, 13:36
The 'Take Care' star posted another new track online this week as the R&B slams the rapper on stage.
Drake and Chris Brown's feud has continued this week with Drake reportedly taking aim at the R&B star in his new song '5AM In Toronto'.
The Canadian rapper's track was posted online last night and follows on from the unveiling of recent comeback song 'Started From The Bottom'.
"A lot of n***** PR stuntin' like that's the movement/And I'm the only n**** still known for the music," he raps – with many claiming the words are an attack on Brown.
Meanwhile, during an impromptu performance in Hollywood's Emerson Theater, yesterday (7th March), Chris reacted angrily after the house DJ played Drake material.
"The DJ can play this s***, but I want you all to know…F*** Drake," he apparently told those in attendance at the gig.
The pair came to blows last year during a late night altercation at a bar in New York – which left Chris with a laceration to his face.
Check out a picture of Chris wearing a bright yellow trcksuit in LA this week below: (Picture X17Online)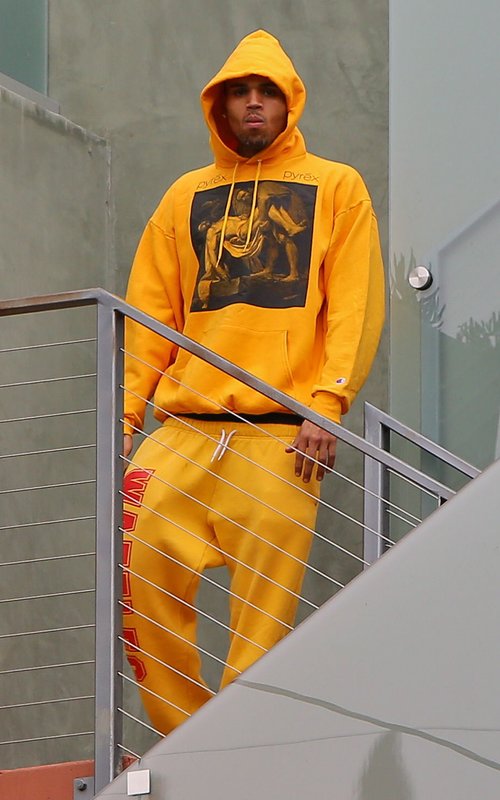 Listen to Drake's new song '5AM In Toronto' below:
*Warning this track features strong language which may cause offence*
Meanwhile, Chris Brown's romantic life has continued to hit headlines in recent weeks following an interview Rihanna gave with Elle magazine in which she called the singer "the one" and spoke of her desire to start a family.