Everyone Needs To Leave DJ Khaled Alone Right Now
5 April 2018, 10:49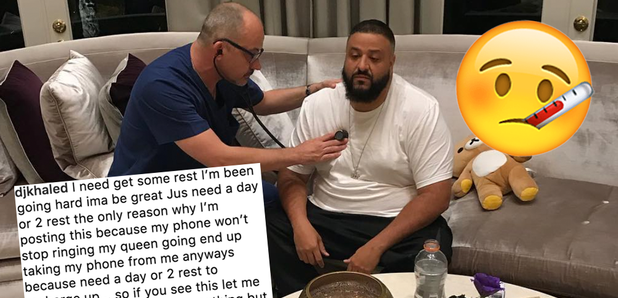 We can safely say we've never seen DJ KHAAALED looking so unlike his usual self in his latest Insta post as he announces he needs a few days of rest and recuperation.
DJ Khaled... is... is that you?
The usually flamboyant and famously loud music producer looks a shadow of him former self in his latest instagram post, sitting feebly as a doctor listens to his heart through a stethoscope.
In the message he sent alongside the pic, he announced his girlfriend is on the verge of confiscating his phone from him as he has become exhausted from overworking.
Usually known for sharing literally every second of his waking day on social media which includes handing wads of cash out, driving in sports cars and spraying bottles of champagne whilst shouting ANOTHER ONE, his post is uncharacteristically humble and has got us genuinely worried.
So now you know everyone, leave the poor guy alone and definitely don't message him- but ONLY FOR A FEW DAYS OK?!
In the words of the man himself, all praise to the most high and bless up.
Download Our Fancy New App For All The Latest Music News
Watch Megan Trainor talk about her beef with DJ Khaled!