Dizzee Rascal's New Song 'Goin' Crazy' With Robbie Williams For Capital FM First Play
9 May 2013, 14:55 | Updated: 9 May 2013, 15:18
Keep it Capital from 8am tomorrow (10th May) to hear the grime star's big comeback song.
Dizzee Rascal's new song 'Goin' Crazy' featuring Robbie Williams will be given its first play on Capital FM tomorrow morning (10th May).
Keep it Capital Breakfast from 8am to hear the stars' collaboration, which is due to be released on 16th June.
Dizzee and Robbie shot the video for 'Goin' Crazy' in London earlier this month.
Directed by Kanye West and Miike Snow collaborator Andreas Nillson, the video is a Quadrophenia reboot and sees the pair riding pimped up mobility scooters.
Speaking about recording the song in Los Angeles, Dizzee said: "Having Robbie involved has been good. When his name came up, I was excited about it. We went to his house to record it. It's not often on these things you sit in the same studio any more. He told me some amazing stories."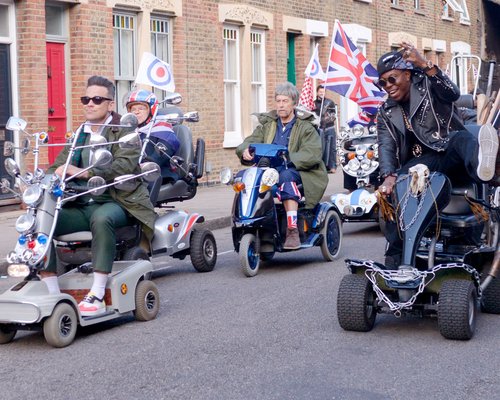 Robbie, who is among the artists performing at the Summertime Ball in June, added that "the song instantly sounded like a smash. I love Dizzee's vibe, his energy and he is a real talent".