Dizzee Rascal Recruits Jessie J and Will.i.am For New Album 'The Fifth'
10 June 2013, 17:43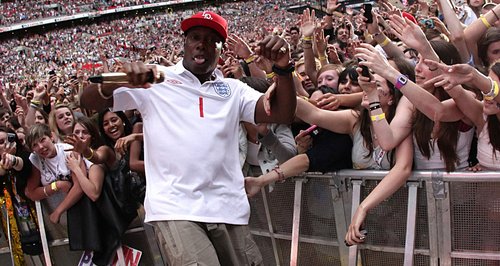 The rapper has also collaborated with Calvin Harris, Angel, Tinie Tempah and Sean Kingston on the new album.
Dizzee Rascal has unveiled that his new album 'The Fifth' will feature a star-studded list of collaborators, including Will.i.am and Jessie J.

The album, released on 1st July, will also include his new single 'Goin' Crazy' featuring Robbie Williams.

Other collaborators on the album include Sean Kingston, Teddy Sky and Trae Tha Truth.

Speaking about the album, Dizzee said: "If my last record was dipping my foot into the swimming pool of happiness, this one is fully going for a swim - backstroke, butterfly, in every way ... not just doggie-paddle."
Calvin Harris – who previously collaborated with Dizzee on the 'Dance Wiv Me' – has also been recruited for the new record.
'The Fifth' standard tracklisting:
'Superman'
'I Don't Need A Reason'
'We Don't Play Around'
'Good' ft. Angel
'Spend Some Money' ft. Tinie Tempah
'Arse Like That' ft. Sean Kingston
'Something Really Bad' ft. Will.i.am
'Goin' Crazy' ft. Robbie Williams
'Love This Town' ft. Teddy Sky
'H Town' ft. Bun B and Trae Tha Truth
'Heart' Of A Warrior' ft. Teddy Sky
'Life Keeps Moving On'
'Bassline Junkie'

Deluxe Tracklisting:
'Superman'
'I Don't Need A Reason'
'We Don't Play Around' ft Jessie J
'Good' ft. Angel
'Spend Some Money' ft. Tinie Tempah
'Arse Like That' ft. Sean Kingston
'Something Really Bad' ft. Will.i.am
'Goin' Crazy' ft. Robbie Williams
'Bang Bang'
'Love This Town' ft. Teddy Sky
'H Town' ft. Bun B and Trae Tha Truth
'Heart Of A Warrior' ft. Teddy Sky
'Life Keeps Moving On'
'Here 2 China'
'Bassline Junkie'
'Watch Your Back'