WATCH: Craig David Performed An Epic Acoustic Masterpiece Live On A London Bus
27 March 2018, 16:30 | Updated: 27 March 2018, 16:31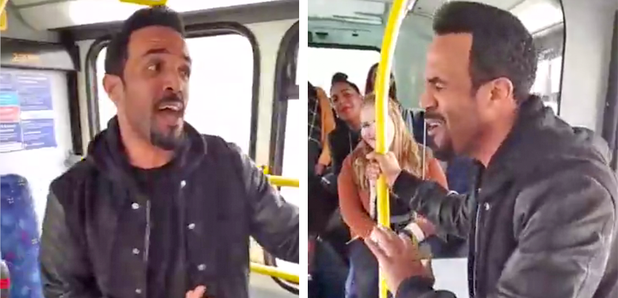 Streaming the stunt on Facebook live, Craig proved just why he's one of the most talented UK artists around with the acoustic set!
Having released his latest album 'The Time Is Now' earlier this year, UK legend Craig David was determined to put some smiles on people's faces, so he decided to perform some of it live on a London bus!
The 'I Know You' star had teased a Facebook live stream over the last couple of days and fans were excited about the mystery show, but we're pretty sure the people on the bus were even more surprised when they saw Craig hop on.
> Craig David Has Given This Bride-To-Be The Best Gift Ever After She Tweeted Him For 480 Days In A Row
Craig not only performed his latest single 'Magic', but he also performed an acoustic version of one of his biggest and most loved hits of all time '7 Days', much to the delight of the bus load of people who joined in.
I'll be live streaming a special acoustic set on Facebook in 20 minutes You'll want to see this! pic.twitter.com/PEb4T5qksW

— Craig David (@CraigDavid) March 27, 2018
Not many artists can put on a vocal performance quite as impressive as Craig managed whilst being driven around on a double decker bus, but this was a total masterclass and makes it easy to see why Craig is adored by the public.
Check out the video below to see for yourself exactly how it all went down. HINT: It was incredible and we're so jealous we weren't there!
> Download Our Fancy New App For All The Latest Craig David Chat!
Whilst you're here, check out what happened when Justin Bieber crashed Craig's recent show in America...