Conor Maynard On Filming 'R U Crazy' Video Romantic Scenes: "It Was So Awkward!" - Video
13 September 2013, 12:00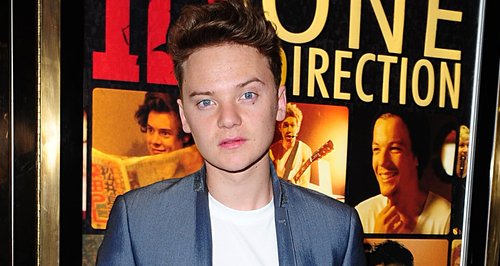 The 'Can't Say No' singer says the love scenes in his new video were "very difficult" to film.
Conor Maynard has admitted it was "so awkward" shooting the romantic scenes in his music video for new single 'R U Crazy'.
The 'Animal' singer says while it may look romantic in the finished version, the reality was he had "30 heavily breathing men" watching him from behind the camera.
"It's so awkward!" Conor revealed exclusively to Capital about the scene in question. "Those scenes are so awkward because when people see it they're like, 'Oh you know, that's like a bedroom scene!'
"But there's like 30 heavily breathing men behind the camera watching you do it!" the 'Can't Say No' singer explained. "In this video, obviously, I'm meant to be portraying that I'm fighting it and that kind of thing.
"But it's definitely very awkward and very difficult," Conor admitted. "You just have to pull it together I suppose!"
The UK singer-songwriter also admitted he felt "a bit rusty" shooting the video, his first single from his yet-to-be-announced new album.
Going back to doing videos again, I definitely felt a bit rusty at first!" Conor added. "Doing the first takes it felt a bit weird, I kept forgetting the words!
"But other than that it was really cool."
Conor Maynard launches new single 'R U Crazy' last month and has teased a potential release for his new album in early 2014.
Watch Conor Maynard discussing the awkwardness of his 'R U Crazy' music video below: