That… Was… EPIC! Coldplay Kick Off Capital's Jingle Bell Ball With Coca-Cola!
5 December 2015, 19:02 | Updated: 5 December 2015, 21:19
The band performed all their BIGGEST hits... and the crowd could NOT get enough.
There couldn't have been a more perfect way to kick off a weekend of incredible music than by having one of the world's BIGGEST bands open for us, when Coldplay took to the stage as the first act at Capital's Jingle Bell Ball With Coca-Cola.
The UK four-piece are undoubtedly one of the most critically acclaimed bands of the past decade and you could tell they loved EVERY minute of performing for the #CapitalJBB crowd today (5th December) at London's The O2, ready to showcase their newly launched seventh album 'A Head Full Of Dreams', which dropped this past Friday.
And with eight BRIT Awards to their name, seven Grammys PLUS news they're set to headline the US Super Bowl next year - anticipation was sky high for this one!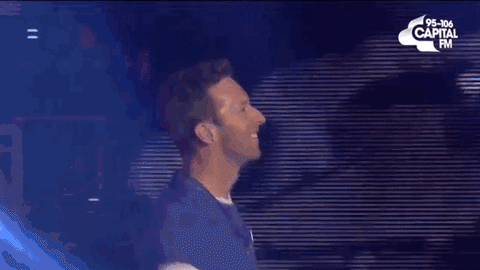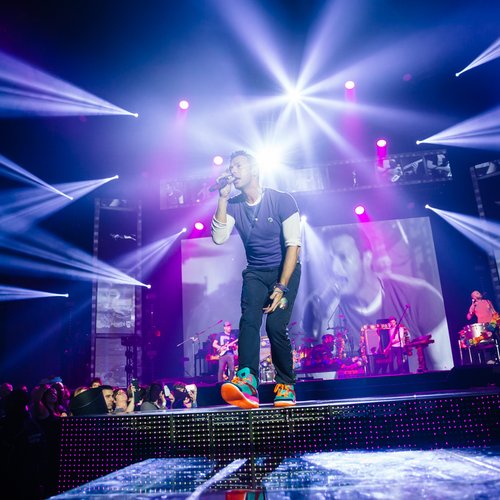 Picture: Gobinder Jhitta
Coldplay kicked off a hit-filled set with their HUGE single 'Viva La Vida', which featured on the band's 2008 album, and they performed this one to PERFECTION.
"It feels so great to be here at the Jingle Bell Ball!" Chris shouted out as the band kicked off their set.
Keep it Capital TV for full highlights from this year's Jingle Bell Ball with Coca-Cola on Sky 388 or FreeSat 507 or click here to watch.
Next up Chris got behind that piano and kicked off 'Clocks', with those signature chords bringing a feel-good factor to the #CapitalJBB stage, with lazer lights filling the arena.
Now it was time for the anthemic 'Paradise' - always a true crowd-pleaser - which had EVERYONE singing along to the chorus and getting into the party mood.
Coldplay then took things well and truly huge with one of their more recent songs - 'Sky Full Of Stars' - turning up the 'EPIC' dial to 11, and the sky FILLED with confetti to really bring the performance to life.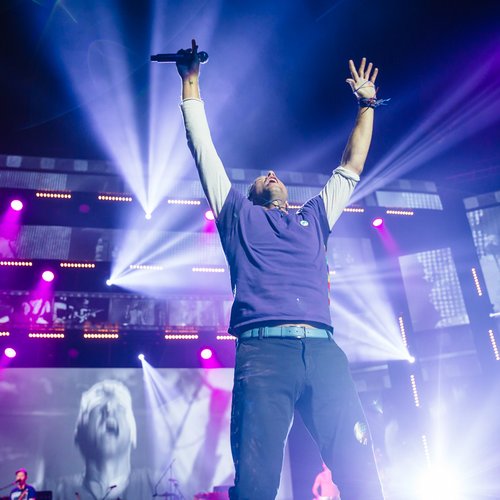 Picture: Gobinder Jhitta
"It's such a pleasure to be here today," Chris said. "We're so grateful to play here for you, thank you for letting us play for you."
Next up hearing Chris casting a spell over 16,000 fans with the hauntingly perfect 'Fix You' was a TRUE moment - for the band, for those in the arena and for everyone listening on Capital. PERFECTION!
'Princess Of China' was next up - one of the band's coolest and most pop-oriented tracks, which the crowd obviously lapped up every minute of.
But it was their next song that Coldplay clearly couldn't WAIT to perform… their latest single 'Adventure Of A Lifetime'.
The way Chris Martin jumped around the stage, backed by Will, Guy and Jonny putting everything into their performance, showed just how much they love this track, and the fans totally agreed!
"Have a great time, thanks for watching us, Merry Christmas!"
And it sounds like all you Coldplay fans out there were LOVING it:
At the jingle bell ball @Coldplay were amazing. #jbbstage #jbbholidaysarecoming

— PutneyBuoy (@putneybuoy) December 5, 2015
Coldplay were fab at #jjbstage at the jingle bell ball

— Vicky Rogers (@VickyRogers) December 5, 2015
Loving the jingle bell ball, great open by Coldplay, J&R x #JBBStage

— Jessica Sargeson (@JessSargeson) December 5, 2015
COLDPLAY LOOKED AND SOUNDED SO GOOD AT THE JINGLE BELL BALL THANKS FOR FACETIMING ME!!!!!!!! @elliehaywood_21

— lara evans (@larathatsit) December 5, 2015
Coldplay's Full #CapitalJBB Set List
'Adventure Of A Lifetime'
You may also like...