Chris Martin Looks STEAMING Hot On The Set Of Coldplay's New Music Video
17 June 2014, 14:57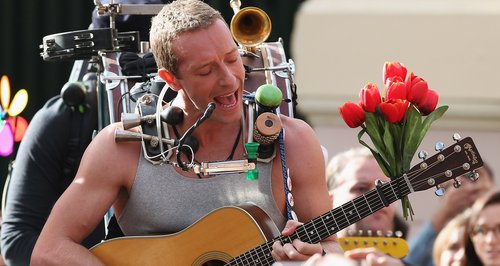 Who knew the Coldplay frontman was so SERIOUSLY ripped?
Pass us a bucket of ice quick because Chris Martin's bulging arms have got us flustered all of a sudden!
The 'Fix You' singer has clearly been lifting weights and downing protein shakes recently, if the new pics of him and Coldplay shooting their new music video down under are anything to go by.
Coldplay arrived out in Sydney, Australia earlier this week and wasted no time in getting to work filming their music video for new single 'A Sky Full Of Stars'.
And the fans who turned up in their hundreds to watch the boys were NOT left disappointed, as Chris Martin and company opted to dress for the summery weather in tight tops and fitted vests. THANK YOU CHAPS!
As well as looking VERY handsome on the set of the video, the Coldplay stars also each had drum sets strapped to their backs for what is looking like a very festive summery themed promo.
Coldplay are also in Australia for a six-day promotional tour that will see them playing the iconic Sydney Opera House on 19th June this week.
But whatever you're doing Chris, keep going because it's DEFINITELY working!

You may also like: