Years & Years' Olly And Clean Bandit's Neil On Their Romance
5 July 2015, 21:23 | Updated: 6 July 2015, 12:02
The young couple open up on their grand romantic gestures while chatting to Max backstage at Wireless.
We may have a new favourite pop star pairing… Olly Alexander from Years & Years and Clean Bandit star Neil Amin-Smith!
Backstage at New Look Wireless Festival 2015 this weekend Max caught up with the pair and of course she wasted no time in grilling them about their romance.
"I think it's good to share," Neil told Max, backstage at Wireless. "It's important for people to see that you can be happy as a couple, and a young gay couple.
"I think I would have loved to have seen one [growing up]," the violinist explained.
The pair ALSO revealed how romantic they are with each other, when grilled by Max about their grand gestures!
"Ollie has probably don't more amazingly romantic things, but I'm more consistently romantic," Neil revealed, before Ollie added: "I talked about you on stage once. I said, 'I wrote this about my boyfriend'. And you've got me flowers a lot."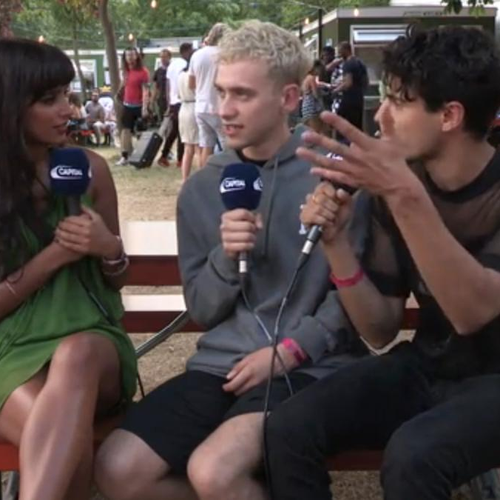 Max also got to catch up with Charli XCX backstage at the festival all about writing for Britney, touring with Katy... and her new album! Hit play on the video below:
Keep it Capital every Monday to Thursday from 10pm and Sunday's from 7pm for Max's show.
You may also like...
WATCH: Years & Years' New Video For 'Foundation'