Chris Brown Says He And Rihanna Don't Talk About Drake
2 April 2013, 11:54
The 'Fine China' singer says the couple's pillow talk does not feature the Canadian rapper despite their feud.
Chris Brown has revealed that he doesn't speak about his feud with Drake to Rihanna.
The 'Don't Judge Me' star was involved in a late night altercation with the star last year – believed to be over the Bajan singer.
"Me and him don't see eye to eye," he told US station Hot 97. "We never gonna see eye to eye, so you go your way, I'ma go mine."
He was also questioned as to whether Rihanna had any issue with Drake herself.
"That's a good question. I don't really try to talk about him when I'm around her," he declared. "I just do my thing. I don't pillow talk."
Drake enjoyed a brief relationship with the singer when she split from Chris, but the R&B star is rumoured to be back dating the 'Talk That Talk' singer.
Check out a picture of Chris Brown with Spike Lee at the basketball this week below: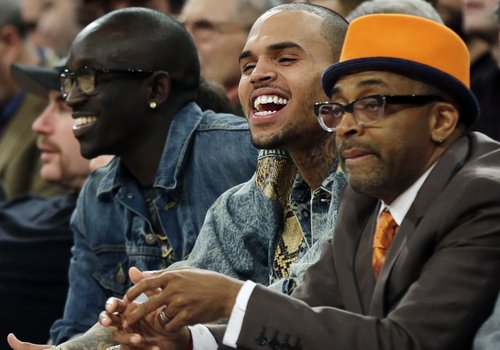 Meanwhile, Chris has also been revealing details on his latest collaboration with Rihanna for upcoming new album 'X'.
He explained the track was "youthful and sexy" and would be called 'Put It Up'.
This week has also seen the singer unveil the official music video for his new single 'Fine China'.