Chris Brown Teases "Sexy" New Rihanna Collaboration 'Put It Up' And Possible Joint Album
2 April 2013, 09:56
The 'Turn Up The Music' star says he will release his new record 'X' and then talk about a full record with the Bajan star.
Chris Brown has been teasing more details about his new collaboration with Rihanna and said the track is "sexy" and "youthful".
The 'Don't Judge Me' star first unveiled details of the team-up last week as he revealed plans for new album 'X'.
"So we did 'Nobody's Business' for her album, and then I wrote a song, it's called 'Put It Up'," he told MTV. "It's more of an R&B record."
He continued: "I wanted to do an R&B record with Rihanna because I didn't want it to be the same four-on-the-floor, pop."At the end of the day, that's what they expect from us, so I wanted to do more of a record that nobody really heard her sing on as far as that genre."
As well as explain the song would be "youthful and at the same time sexy", he said talked about the title.
"You know what 'It' is, so just 'put it up'," he said.
Chris also revealed how the artists' work ethic is the same but their processes can differ quite considerably.
"Me, I'm in the studio like [a] ball of energy; I don't really write ... I never write, it's all off of what's up here," he revealed. "Whether it be rapping or me singing, I'll go sing a melody, come up with a concept and write it that fast and we'll knock out the song in like an hour.
"With her work ethic, it's the same — she's just as liberal and vibrant. She goes in the studio and it's easy for her, like it's nothing."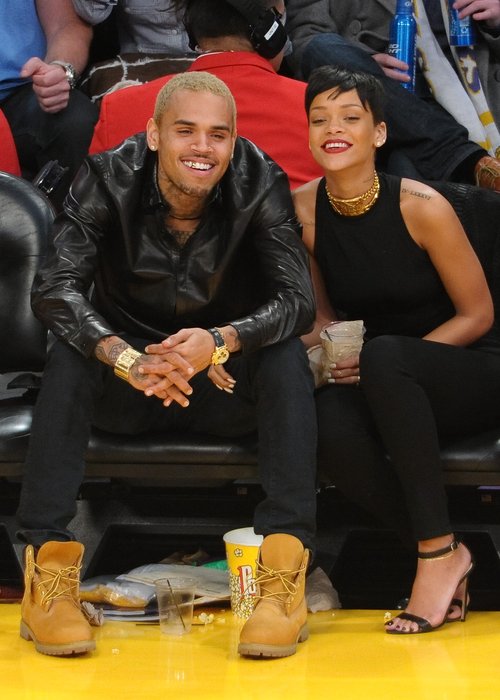 A particular instance stood out to the star that left him in complete awe of his rumoured girlfriend.
"I remember she was doing her album and I was at the crib one day, and she was just recording in the house ... and she was just sitting there, the TV was going — [the sound] was off — but she was sitting there with the headphones, singing, the top of her lungs, killing the song. I was like, 'Woah, she do it just like me. That's effortless'," he said.
With another new collaboration confirmed, MTV also posed the question of the pair teaming up for a full album together.
"[That] might be crazy," Chris laughed. "You gotta wait though. X and then you get the Rihanna and Chris Brown album!"
Meanwhile, Chris has this week also released the official music video for his latest single 'Fine China'.
The track is available to download now and is the first to be taken from new album 'X'.