Sarah Harding & Cheryl Delight Fans By Ending Their Bitter Feud & Sending Each Other Sweet Messages
14 September 2017, 15:52 | Updated: 14 September 2017, 15:57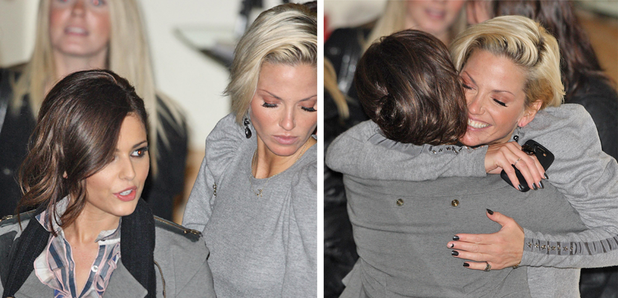 We're so glad the pair are publicly speaking again!
Over the years since Girls Aloud split up, there has always been talk about an underlying feud between some of the members.
Sarah Harding's reported lack of communication with Cheryl in recent years has been one of the most talked about fractures in the group, but now the pair seem to have publicly put that to rest with some sweet tweets!
> Baby Bear Won't Be A Big Bro Anytime Soon – Cheryl's Told Liam Payne She's Not Ready For Another Kid
When Sarah entered the Celebrity Big Brother house earlier this year, everyone was waiting on the edge of their seats to see whether she'd discuss her days in the band and in particular her relationship with Chezza.
After dropping in a few comments about her former pal, it appeared that they hadn't spoken for a long time, until now.
Cheryl tweeted her fans and asked send her songs from her albums they think should have been singles, but she got a very unexpected response...
Yoo hoo can you tweet me the songs from my albums that you think should've been singles please

— Cheryl (@CherylOfficial) September 13, 2017
Hey stranger!...U know FFTL will always be the one #TrueToTheGame

— Sarah Harding (@SarahNHarding) September 13, 2017
Yes, Sarah reached out to Cheryl to tell her that 'Fight For This Love' will always be her fave and in doing so provided the first sign the ladies are communicating again!
The fact that Sarah began her reply with 'Hey stranger' suggests that the pair hadn't spoken for quite a while and gives those feud rumours a lot of credibility.
But it wasn't just Sarah who reached out to Cheryl, as the Geordie lass sent a message back, filling us with hope that these two could become BFFs once again!
September 13, 2017
Now all we need is to see pictures of the two sitting reminiscing over the good old days with Baby Bear and a cup of tea and we'll be happy forever!
> There's Loads More Celeb Chat Over Here On Our Amazing App, So Why Don't You Head On In There Now?
Whilst you're here, check out what Liam Payne had to say recently about smelling Cheryl's hair...