Cheryl Cole Dares To Bare In First Skincare Campaign With L'Oreal
6 August 2013, 12:20 | Updated: 6 August 2013, 12:22
The 'Call My Name' singer gets snapped taking a selfie as she poses for a new shoot with the brand.
Cheryl Cole has been pictured in her first skincare campaign for L'Oreal Paris this week.
The Girls Aloud star strips back any heavy foundation for the natural look and was seen taking a selfie with one of the cameras on set.
"I thought I would be nervous or apprehensive to not be able to wear foundation on a shoot, but it's actually been quite liberating to have the freckles out in full force," the star explained.
Cheryl also offered some words of wisdom to younger fans thinking of perfecting their own beauty regimes.
"You know when you're younger and you start experimenting with make-up, and you maybe have a few spots? The experimental phase for me was disastrous, I would literally put on half a tub of blue eyeshadow and then end up taking half of it off," she said.
Check out a shot of Cheryl on set for the new photoshoot below: (Charlotte Medlicott for L'Oréal Paris Skin Perfection Skincare)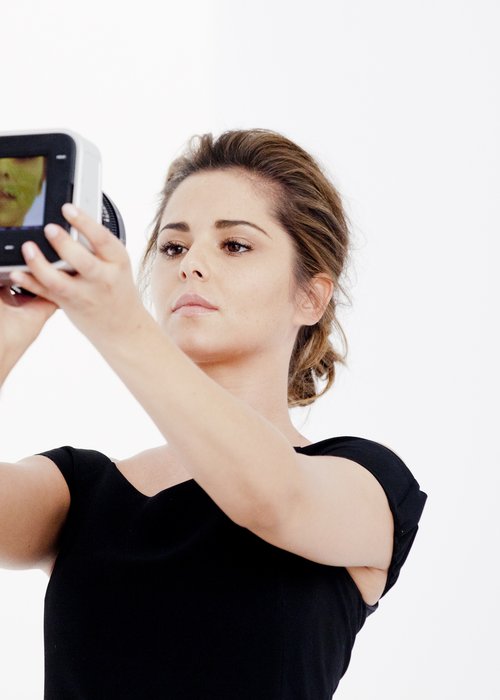 The '3 Words' singer also dished on her bad hair days and thoughts on changing her look.
"You won't be seeing me with electric blue hair anytime soon," Cheryl confessed. "I'm not going to go there. I like to experiment for videos or for an editorial piece where we're really pushing it, but for day-to-day I have no outrageous plans."
L'Oreal Paris Skin Perfection Skincare is available nationwide from Monday 5th August at www.boots.com.