You'll Never Guess Who Charli XCX Is Teaming Up With Now?! A GHOST. For Reals.
13 August 2014, 10:51 | Updated: 13 August 2014, 10:54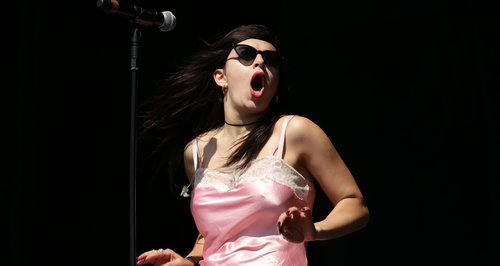 Well, Iggy Azalea IS a pretty big act to follow, so Charli XCX is recruiting singers from beyond the grave…
You know you're doing well when everyone is queuing up to be on one of your tracks – including people from beyond the grave!
Charli XCX has somehow managed to get an actual GHOST to collab on her new album – and nope, we're not even kidding.
Charli has been recording her new album at a disused hotel in Sweden, that is apparently haunted by an ex-guest.
She told the Daily Star, "I had a writing camp with 15 other songwriters and producers in Stockholm at a hotel that was like The Shining."
"A woman drowned herself at the lake in front of the hotel and she still 'lives' there.We got a recording of her voice, which is on my phone. I want to put it on every song on the album."
Erm…. Sounds a bit creepy to us!
Charli, who at just 21 has already had a massive smash hit with the track she wrote for Icona Pop, 'I Love It', has also wored with Iggy Azalea on 'Fancy'.
She went to Sweden to make a punk album after she got sick of the pressures from the music industry to make similar songs to 'I Love It.'
She said, "I was so bored of having the same conversation with people wanting me to replicate 'I Love It', but I think 'I Love It' and 'Fancy' have a punk element to them."
Well you don't get more unconventional than featuring actual dead people on your album – we are VERY interested to see what that sounds like!
You may also like: