Miley Cyrus Dances Front Row At Britney Spears' Opening Night In Las Vegas - Video
28 December 2013, 12:30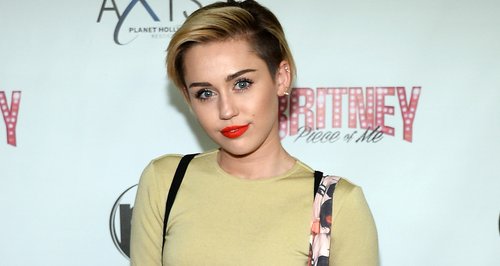 The likes if Katy Perry and Selena Gomez also helped the 'Toxic' star kick off her two-year residency.
Britney Spears kicked off her two-year Las Vegas residency last night (27th December) at a special VIP show which saw the likes of Miley Cyrus and Katy Perry all showing their support from the audience.
Check out Miley Cyrus dancing along on the front row to Britney's Las Vegas opening night below:
The 'Work Bitch' singer launched her 'Piece Of Me' residency on Friday at Planet Hollywood, performing 23 of her hit singles over the course of the 90 minute show along with seven costume changes in total.
"Wow… perfect audience for the 1st #PieceOfMe show! That was AMAZING! I <3 you Vegas!!!" Britney tweeted soon after the show, before tweeting to thank Miley and Katy for their attendance and support.
".@KatyPerry Was SOOOO good to see you again girl! Glad we could make our Vegas date happen :)" Britney posted to the 'Roar' star, while she wrote to Miley: ".@MileyCyrus Love you so much! Thank you for coming to #PieceOfMe! I adore you :)"
View a snap of Katy Perry walking the red carpet at the event below (Credit: Getty):
Selena Gomez was also there for Britney's opening night alongside 'Perfume' co-writer Sia, and tweeted: "Sia!! Thank you soooo much for taking me to Britney!!!! Ahhhh."
See a picture of Miley walking the show's red carpet below (Credit: Getty):
Britney Spears is set to perform 50 shows each in both 2014 and 2015 as part of the Vegas residency, and performs once again tonight (28th December).
Check out the full setlist for Britney's Piece Of Me show below:
'Work Bitch'
'Womanizer'
'3'
'Everytime'
'Baby… One More Time'
'Oops!… I Did It Again'
'Me Against The Music'
'Gimme More'
'Break The Ice'
'Piece Of Me'
'Scream & Shout'
'Boys'
'Perfume'
'Get Naked (I Got A Plan)'
'I'm A Slave 4 U'
'Freakshow'
'Do Somethin''
'Circus'
'I Wanna Go'
'Lucky'
'Toxic'
'Stronger'
'Crazy'
Encore / 'Til The World Ends'