#AWK For Him! Britney Spears Talks About David Lucado Split Live ON STAGE In Vegas!
2 September 2014, 09:40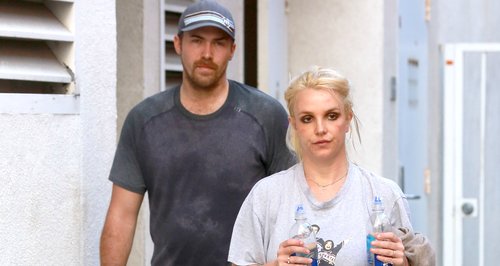 After announcing her break up on Twitter, Britney throws some SPECTACULAR shade at David Lucado during a show in Vegas!
Britney Spears announced her split from David Lucado on Twitter last week - and she's just thrown some SERIOUS shade at her recent show in Vegas. Wouldn't want to be him right now…
Britney posted a tweet last week confirming that she was newly single after almost a year of dating David, which her publicist later confirmed.
Britney spoke about her new found singledom in between songs during her 'Piece Of Me' residency in Las Vegas after it was revealed that she had found out that David had cheated on her via a video recording.
Ahhhh the single life!

— Britney Spears (@britneyspears) August 28, 2014
Britney took to Twitter to say, "Ahhhh the single life!" and posted a video telling fans how to cheer up if they were having a s****y day.
Britney's publicist also confirmed the news to Billboard, saying "Yes, she's single". Men of the world, we wouldn't blame you if you were booking your flights to Vegas to propose. We wouldn't judge you…
As well as making the most of her new single status, Britney has said that she is taking more care of where her money goes to and is getting better at saying no to things.
She told Variety, ""I've been very hands-on with everything I've done since I had my children, and it's just really important for me to understand the big picture, where everybody's coming from, what's the real purpose of this shoot and this song, or whatever it is in that moment that I'm doing."
"It's important to learn to say no. With tours and all of that stuff, there are so many aspects that go into it, it's easy to have so many people around you saying, 'Oh yes, yes, you can afford this, you can afford this,' and then all of the sudden you've spent $20 million on your stage and you're like, 'Where's my money?'"
"You have to make sure that you're on top of things and know where the money's going." Especially when you've got a Las Vegas residency, 16 perfumes on the market and a new lingerie line! Does this lady ever sleep?!
You May Also Like…