Beyonce And Jay Z FINALLY Reveal Unseen Video From Their Wedding – Cute!
27 June 2014, 10:09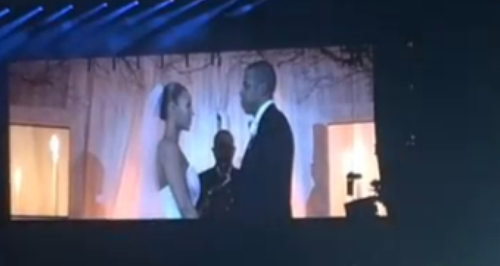 Beyonce and Jay Z's wedding is one of the best kept secrets in the world (probably), but the couple have revealed some of their wedding video – and it is SO CUTE!
Beyonce and Jay Z's wedding is one of the rare celeb weddings that no one has really ever seen any pictures or videos of since they tied the knot in New York in April 2008 after six years of dating, but the pair have released unseen footage of their gorgeous ceremony. And yep, Beyonce looks INCREDIBLE.
Beyonce and Jay Z have embarked on their joint 'On The Run' tour, starting in Miami, and treated fans to a candid video from their wedding ceremony. The notoriously private couple gave everyone a sneaky look behind closed doors at their home videos – and Blue Ivy had a starring role too!
The previously unseen footage shows Bey and Jay getting their matching 'IV' tattoos on their wedding fingers as well as heartwarming shots of baby Blue Ivy and their wedding ceremony – it's almost as if you were there with them. Almost…
Beyonce and Jay Z will be performing 16 dates on the tour, which started on Wednesday 25th June, which mainly tours the USA bur two Paris dates have been added for 12th and 13th September. As yet, no UK dates have been announced, but you could always jump on the Eurostar, we suppose…