Beyonce Hold Hands With Toddler On Stage In London And Reveals Plans For More Children
7 May 2013, 10:30 | Updated: 7 May 2013, 10:48
The 'Love On Top' singer shared a tender moment with a young fan at her 'The Mrs. Carter Show' performance this week.
Beyonce was seen taking a small fan by the hand as she sang her hit single 'Irreplaceable' during her 'The Mrs. Carter Show' in London this weekend.
Many media outlets reported that the child was her own daughter Blue Ivy – something which has since been denied by her representatives.
The Destiny's Child singer has also been speaking about her plans to have more children with husband Jay-Z.
"Definitely I would like to have more children. Motherhood has changed everything," she told the Daily Mirror. "You see things a bit differently after you give birth and my biggest job now is to protect my child."
The singer also took time to speak about her own rediscovery of herself.
"After giving birth there's a moment of rediscovery when you are making sure you still have goals and take care of yourself as a woman," she continued. "That was something I struggled with – making sure I was still this strong woman and also making time for my child and balancing the two."
The 'Crazy In Love' singer also told reporters that the protection of Blue Ivy from the limelight and media attention is something which she considers a "priority".
Check out a picture of the moment Beyonce held a toddler by the hand on stage below: (Picture: Twitter)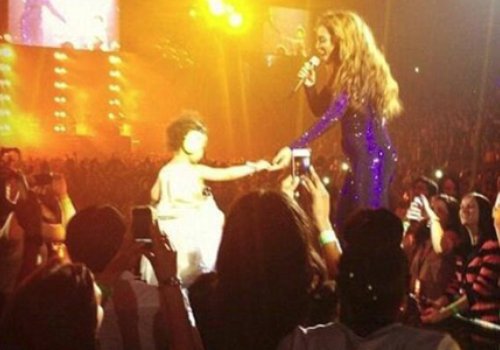 "I am very protective. I just want to make sure that she can have a healthy, safe, normal life… in the back of my mind, she's my priority," she added.

"And life is completely different now. So I'm - I feel really, really just lucky that I can still do what I love, and now have a way bigger meaning. And that's to be her mother."
Watch Beyonce share a moment with one of her young fans – who was wearing ear protectors and sitting on her father's shoulders below:
Meanwhile, Beyonce was also said to have asked an embarrassed Princess Eugenie to sing-a-long- with her during 'Irreplaceable' last week.