Nicki Minaj On Her "Emotional" Duet With Beyonce... Which STILL Blows Us Away!
17 September 2014, 10:57
Watch the pair's performance of 'Flawless' during the 'On The Run' Paris shows.
Nicki and Beyonce's duet performance blew EVERYONE away… and Nicki says it was a very emotional experience for her as well.
The 'Anaconda' rap star made a surprise appearance at the weekend when she rocked up on-stage in Paris to join Queen Bey for the final night of the 'On The Run' tour.
The pair dropped a remix of 'Flawless' together last month, which went down a treat with fans, and gave the re-work its first live performance in the French capital on Friday night (12th September).
Check out a snap of the pair on stage together below (Credit: Splash):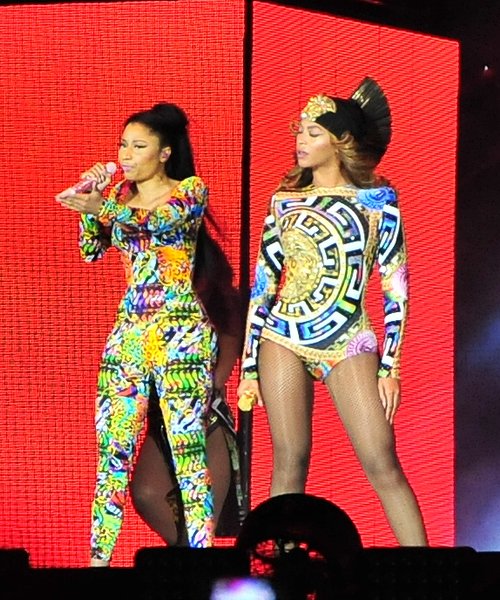 And now Nicki's opened up about just how special that moment was for her, and why she looks up to the first couple of hip-hop, Beyonce and Jay-Z, so much.
"It was very emotional for me to be there because it was a big show, the last big Beyonce and Jay-Z [tour show], so I was very honoured to be a part of it," Nicki told SkyRock. "To me, they represent drive and passion and they represent everything that I would like to be, in terms of being an artist and a businesswoman at the same time."
PLUS… Nicki dropped a HUGE bombshell by confirming she'll have some NEW tour dates in early 2015. Watch this space, Barbz!
"It made me feel great, it made me want to come back with my own tour, which we're doing at the top of the year," she teased. "I can't wait to give fans a full show of my own."
> Remember When Beyonce And Jay-Z Crashed A Wedding?
Jay-Z and Beyonce's 'On The Run' tour has run throughout the summer across North America, with two additional dates in Paris last week for the final shows, as the pair have yet to bring their joint tour to UK shores.
You May Also Like…