Check Out The Best & Funniest Internet Reactions To Beyoncé's Pregnancy Announcement!
2 February 2017, 11:25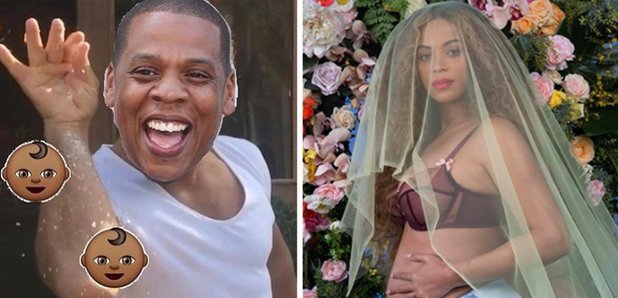 From #SaltJay to Beytwice - check out the greatest memes and reactions to Beyonce's pregnancy announcement.
2017 got about 800% better last night as Beyonce announced that not only was she pregnant again... but that she was expecting TWINS! Of course, with such huge news breaking, the internet reacted accordingly - and a wealth of memes were born.
Congratulations Beyonce & Jay Z - not only are you bringing two more little lives into the world, but you also sparked some of the Internet's best reactions too.
There were the ones that thought Bey looked better pregnant than they do normally:
beyonce looking better pregnant with twins than me on a good day

— carlos (@LoganLey7) February 2, 2017
tbh how beyonce looks pregnant is how I look now

— millie (@millieparker00) February 2, 2017
Beyoncé is eating for three because she's pregnant with twins. I'm eating for three because I'm single and bored.

— (@Sassafrantz) February 1, 2017
People made their own versions - including Ellen DeGeneres' AMAZING effort:
Some people couldn't resist a chance to be salty about the other members of Destiny's Child...:
Everyone is talking about Beyoncé being pregnant with twins… as if she hasn't carried two people before… #BeyonceTwins. #BeyonceBabies. pic.twitter.com/Qk78Io9eij

— Jamie Hough (@jmehough) February 2, 2017
There's the people that just want to spread the news to EVERYONE they know:
Someone: Hi-
Me: BEYONCÉ IS PREGNANT WITH TWINS pic.twitter.com/gtMtb9Jbgm

— Kardashian Reactions (@KardashianReact) February 2, 2017
Who doesn't love a good pun?:
Pregnant - Beyonce

Pregnant with twins - Beytwice

— Puns (@TheFunnyWorId) February 2, 2017
Beyonce is pretty much a super human - even while carrying twins:
beyoncé been out here pregnant doing the full choreography to formation while i've been too lazy to delete my emails pic.twitter.com/scObiZ6sxL

— anal girl (@1800SAMIYAH) February 2, 2017
Lets NOT forget that Beyoncé can outpeform all your favs while being pregnant #BeyoncéIsPregnant #Twins #BlackHistoryMonth #TheCarters pic.twitter.com/JtpuuoqoLv

— BEYONCE KNOWLES (@IconicBeyPics) February 1, 2017
Some people were kind of hoping Beyonce would give birth to them.... (Erm?!):
i hope it's me beyonce's pregnant with

— thom bjork (@operationgodiva) February 1, 2017
Beyonce's pregnant with twins I hope one of them is me

— don (@lolzdonz) February 1, 2017
And OF COURSE, you just can't beat SaltJay:
SaltJay pic.twitter.com/C7sW29NnsS

— Pjay.JohnsonII (@PjayThr3k) February 1, 2017