Beyonce Reveals She Was In Tears Recording Voiceover For Epic Movie
7 May 2013, 17:46
The 'Love On Top' singer talks about her role as Queen Tara in the new animated flick.
Beyonce has confessed that she was in tears as she voiced her character for the new movie Epic.
The Destiny's Child singer plays the part of Queen Tara in the animated flick and said one particular scene struck a chord with her.
"I literally had tears when I played the voice," the singer told The Associated Press. "There was a scene where Queen Tara picks out her pod and I just imagined seeing my child."
The singer was promoting the flick in London in-between concerts on her 'The Mrs. Carter Show' world tour.
Beyonce was also asked about getting Princess Eugenie to sing with her during one of the shows.
"I didn't know, and I still don't know. Someone told me and I don't know what's going on, but I hope they had a great time and I hope I didn't insult anyone, making them sing into the mic," she said. "But you know royalty likes to have fun and have a good entertaining night."
The 'Crazy In Love' singer also admitted that it's great to explore herself further with movies and loves getting into character on stage as well.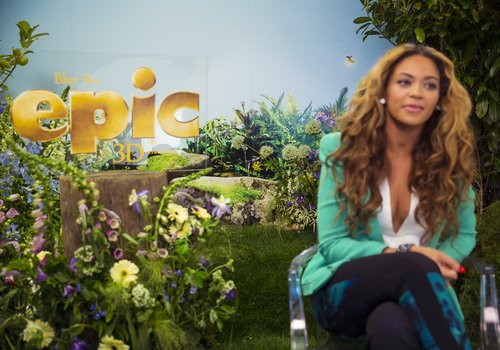 "I'm an artist and I love being able to express myself and I'm not one-dimensional," she added. "I have different feelings every day and now that I've done movies I feel like I can try and recreate these characters on the stage."
Meanwhile, the singer wowed on the red carpet in New York last night for the Met Gala 2013.
Taylor Swift, PSY and Nicki Minaj were also in attendance for the special fashion event.