Ariana Grande Hints To Fans That Her Next Tour Is Going To Be A Long Way Away
24 September 2018, 15:02 | Updated: 24 September 2018, 16:05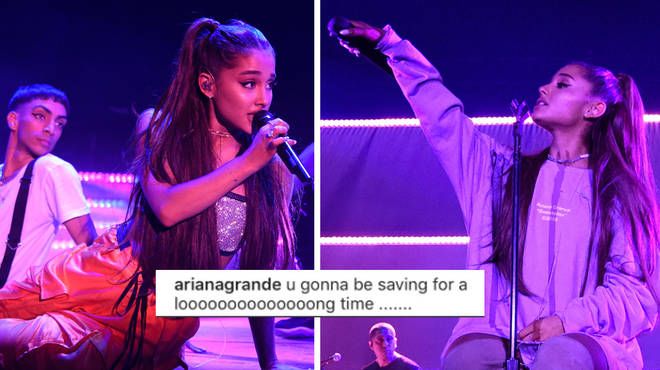 The 'Sweetener' star deleted her cryptic comment but not before fans managed to screenshot it.
If you're an Ariana Grande fan waiting for her 'Sweetener' Tour, you might be waiting a while, according to the lady herself…
Pete Davidson's Support For Ariana Grande After Mac Miller's Death Has Won Her Family Over
After a fan posted a meme reading "Why buy the new iPhone when you can save that money for Meet & Greet for Ariana's next tour?" Ari replied, "u gonna be saving for a looooooooooong time….".
She quickly deleted the comment, but not before eagle-eyed fans had managed to screenshot the post, seemingly confirming that her next tour won't be anytime soon.
When the fan saw she had replied, they posted the screenshot on Instagram, to which she replied, "I was jus tryna make ya laugh. It was just a joke bc u might be waiting for like… all eternity. Lol. But I love u. I'm sawee. Miss u all a lot." [sic]
Fans were quick to show their support for Ariana, saying they wouldn't mind if there was no tour if it meant Ari taking time to look after herself instead.
is anyone else over the idea of tour? like unless ariana is 100% ready and content within herself i like .... dont want her to start touring at all. it wouldn't feel right. literally all i want is to see her showing genuine happiness she deserves that more than anything

— sav (@grandemeester) September 18, 2018
tour isn't happening. ariana needs a break and time to heal. she doesn't have to give us a tour for this era.

— miguel (@moonlightmiguel) September 22, 2018
tour being cancelled shouldn't be a main concern. ariana's health comes first always. we have to respect her decisions and let her take time off to get better.

— miguel (@moonlightmiguel) September 18, 2018
i don't wanna see anyone complaining about ariana's decisions. postponed tour? cancelled m&gs? hiatus? good for her. don't be sad on the timeline.

— mona (@arianashijabi) September 22, 2018
i hope ariana takes her time and heals. nobody .. NOBODY should be rushing her to get tour tickets out or to pressure her so she feels like she can't take her time to heal and take time on her health.

— tú chica v ♡ (@happiana5) September 24, 2018
what we're gonna do is focus on ariana's health right now & not mention tour that much. since ari is gettin bigger n bigger she has to add more dates than were in her previous tours & we dont want her anxiety sky rocketing higher than it is now. :(

— 𝐦𝐚𝐫𝐥𝐞𝐧 𝐥𝐨𝐯𝐞𝐬 & 𝐞𝐦𝐛𝐫𝐚𝐜𝐞𝐬 𝐚𝐫𝐢 (@joyfuIari) September 24, 2018
i honestly hope that ariana cancels the tour if it's best for her. the worst thing would be her still going on tour whilst still feeling like this n cracking under the pressure. i jus want her to be happy. i jus want her to focus on herself right now. it's what she needs :(

— 𝐫𝐡𝐞𝐚 𝐚𝐝𝐨𝐫𝐞𝐬 𝐚𝐫𝐢𝐚𝐧𝐚 (@remsclouds) September 24, 2018
We know Ari will be back when she's ready – but until then, we're going to have 'Sweetener' on loop.
>Download Our Brand New App For All The Latest Ariana Grande News