Ariana Grande's Ex Ricky Alvarez Filmed His Reaction To Hearing 'Thank U, Next' Shoutout
6 November 2018, 12:55 | Updated: 6 November 2018, 14:03
Ariana Grande's surprise break-up single 'thank u, next' shouts out her exes, including dancer Ricky Alvarez, who has hilariously reacted to the diss lyrics in an Instagram video...
Ariana Grande literally broke the internet when she dropped 'thank u, next' addressing her ex boyfriends including Pete Davidson and Mac Miller, but one lesser known ex and former backing dancer, Ricky Alzarez, who the singer dated from 2015-2016 has reacted to hearing his name drop in the song and it's pretty funny.
Ariana Grande's Secret 'Zandhr' Album Discovered By Fans
In the song, Ricky kind of pulled the short straw with the line 'wrote some songs about Ricky, now I listen and laugh" in comparison to other exes, who Ari had nothing but praise for, but the professional dancer handled the shoutout like a pro and even congratulated his ex on the 'fire' song.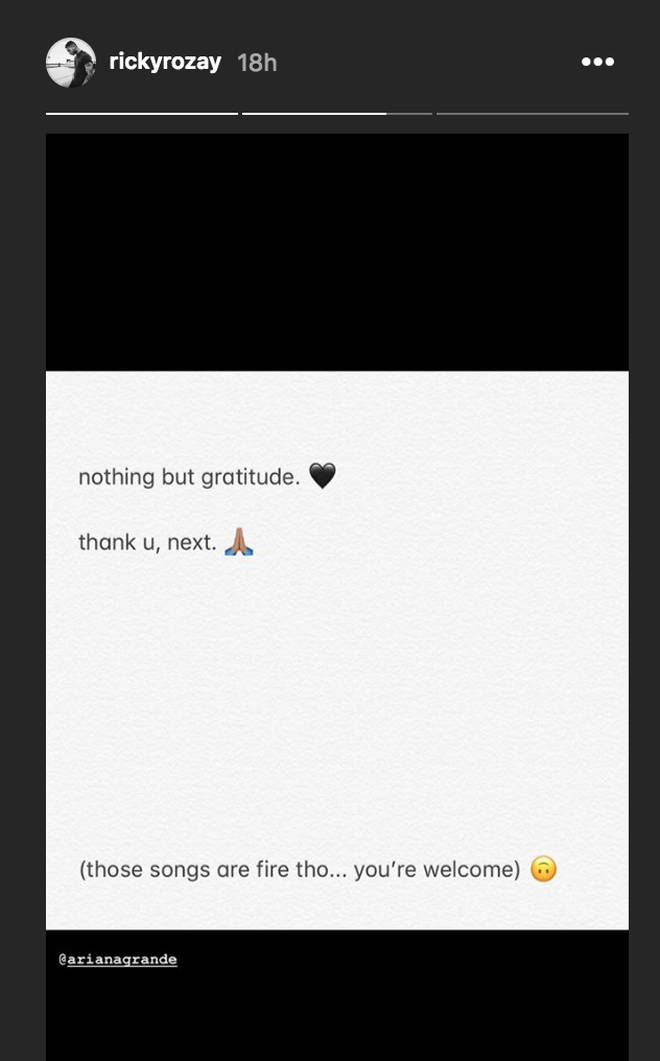 After filming himself listening to the song, zooming in in joke 'shock' when hearing the lyrics about him, he posted a screenshot reading: "Nothing but gratitude. Thank u, next. (Those songs are fire tho...you're welcome)" and we're really wondering where we can get such a gracious ex from, because what a guy!
Ari then re-posted his video, laughing along at his reaction with the message: "'HAHAHAHAHHAHAHAH IM SORRY U GOT THE WORST LINE. It was meant v lovingly".
no drags.... no shade..... jus love, gratitude, acceptance, honesty, forgiveness ... and growth 🖤

— Ariana Grande (@ArianaGrande) November 3, 2018
This whole 'being nice to your ex' business seems to be going down really well with like, every single Ariana fan, and just look how it's bringing out the niceness in everyone, 2018 is the era of loving your ex, and it's kind of weird, but we like it!
>Download Our Brand New App For All The Latest Ariana Grande News