Anne-Marie Bought A Fan Some New Shoes After They Broke On The Way To Her Show
24 March 2018, 12:12 | Updated: 24 March 2018, 12:23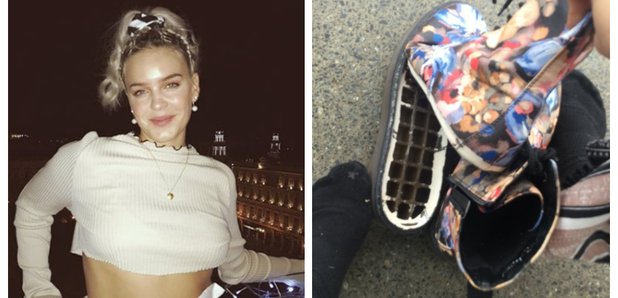 Not all superheroes wear capes.
If you ever thought it was impossible to love Anne-Marie anymore than you do already, then you're wrong.
Anne-Marie has been out being our fairy godmother and has shown no signs of stopping anytime soon.
Just the other day she bought her fans some pizza and offered to pay off a fan's parking ticket after this fan got the ticket after going to see Anne at her Birmingham gig on Monday.
And now the 'Friends' singer is back again just being an absolute gem to her fans.
Anne-Marie who is currently touring Europe, noticed that a tweet from a fan called Rafaela whose shoes had somehow fallen apart on her way to her show and was asking for help from anyone going to the show to bring along some spare shows for her.
She tweeted: "Yo someone help a girl out? Anyone going to @AnneMarie tonight have a spare pair of shoes cos I've just got on the train and the sole has completely come off mine shoe currently walking in socks."
This is the current situation @AnneMarie pic.twitter.com/iXnDE1m8iQ

— Rafaela(@Raffacake1999) March 22, 2018
Tweeting a picture of the broken boots to the 'Friends' singer, she responded by getting some brand new shoes sent to her just a few hours later.
Who says all superheroes wear capes?
Sharing the good news with the world alongside a pic of her snazzy new trainers, Rafaela wrote: "Ok @AnneMarie has given me new shoes, thank you!"
Ok @AnneMarie has given me new shoes , thank you! pic.twitter.com/rP4XwSdxzB

— Rafaela (@Raffacake1999) March 22, 2018
And showing off what a darling she is, the 26-year-old made sure to confirm that the shoes fit perfectly. And it sounds like a modern day Cinderella story.
Our hearts.