Adele's Openly Discussed Her Postnatal Depression & It's Made Us Love Her Even More
1 November 2016, 16:11 | Updated: 1 November 2016, 16:15
She also spoke openly about her relationship with her partner, her old drinking habits and more...
Adele isn't an artist who lkes to broadcast her entire life across social media, so when we get an insight into it, we totally cherish it.
Well the latest look into the world of Adele has come via Vanity Fair and the world famous star has been super open and honest in her own self-assessment.
Speaking about her postnatal depression, Adele explains, "My knowledge of postpartum—or postnatal, as we call it in England—is that you don't want to be with your child; you're worried you might hurt your child; you're worried you weren't doing a good job."
"But I was obsessed with my child. I felt very inadequate; I felt like I'd made the worst decision of my life."
"It can come in many different forms...You're constantly trying to make up for stuff when you're a mom."
Adele goes on to explain that her entire work and personal schedule revolves around her son Angelo and having a child even spurred her to give up drinking and smoking.
"Having a hangover with a child is torture. Since I've had my baby, I'm not as carefree as I used to be. I'm scared of a lot of things now because I don't want to die; I want to be around for my kid. I'm very cautious," she revealed.
She also revealed that touring can sometimes be difficult now that she has a young son.
"I'm enjoying touring, but at times I feel guilty because I'm doing this massive tour, and even though my son is with me all the time, on certain nights I can't put him to bed. I never feel guilty when I'm not working."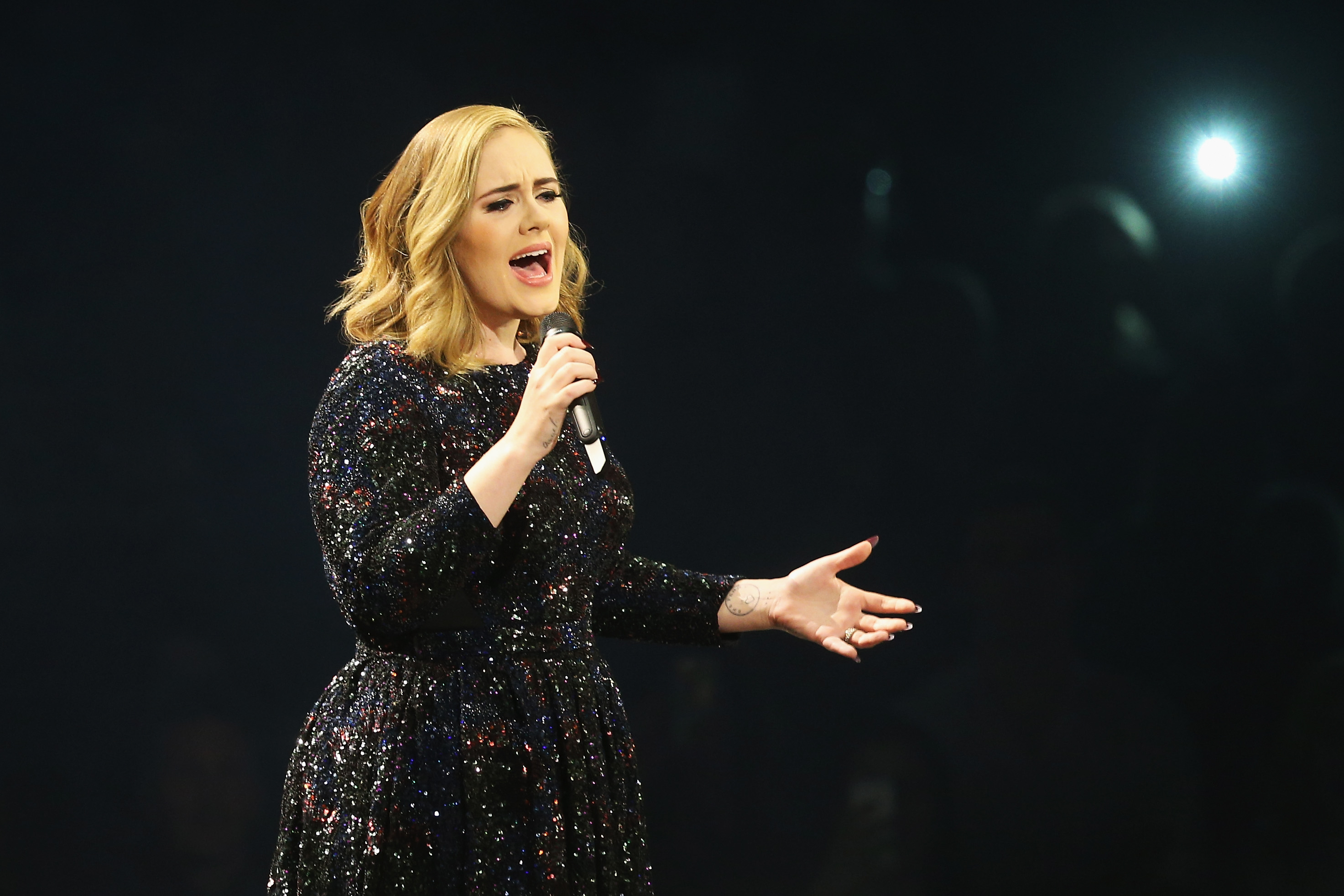 Picture: Getty
Becoming more and more famous is another reason that Adele decided to quit drinking. She told Vanity Fair, "I used to love to be drunk, but as I got more famous I would wake up the next morning and think, 'What the f**k did I say and who the f**k did I say it to?'".
"I can see from an outsider's perspective that I will never write songs as good as the ones that are on 21, but I'm not as indulgent as I was then, and I don't have time to fall apart like I did then."
"I was completely off my face writing that album, and a drunk tongue is an honest one. I would drink two bottles of wine, and I would chain-smoke. Then I'd write the lyrics down and the next morning think, 'F**k, that's quite good.'"
Considering that Adele is usually very private about her personal business, the interview is extremely revealing and she also talks openly about her ongoing battle with depression.
"I have a very dark side. I'm very available to depression. I can slip in and out of it quite easily. It started when my granddad died, when I was about 10, and while I never had a suicidal thought, I have been in therapy, lots."
But it seems that her relationship with Simon Konecki has helped her through some of those tougher times.
"It's the most serious relationship I've ever been in; we've got a child together and we live together.I have no desire to be with anyone in show business, because we all have egos. He's not threatened by any stage of my life that I'm going for, and that's an amazing thing."
"All of my relationships are more important to me than any tour I'll ever do. If my relationship with Simon or my relationship with Angelo started to flounder a bit now, I would pull out of my tour."
"My life is more important to me than anything I'm doing because how the f**k am I supposed to write a record if I don't have a life? If I don't have a real life, then it's game over anyway."
Adele's interview with Vanity Fair is part of their December issue.
You may also like...