Nothing Can Stop Adele…. Not Even A Pesky Record For The Fastest Selling Song Of 2015!
27 October 2015, 10:48
The UK singer's new single is on track to break a BIG record... and you're all LOVING it.
She only dropped the track on Friday but Adele is ALREADY on course to score the fastest-selling single of the year! Not too shabby, right?
The UK superstar launched 'Hello' as a surprise release at the end of last week - with the video ALREADY breaking a VEVO record after its unveiling - and now Adele's set for another record too.
Since its release 'Hello' has already scored combined sales of 165,000 - with 156,000 UK downloads alone as of yesterday - which helped propel it straight to number one on the Vodafone Big Top 40 this past Sunday.
Making it pretty clear Adele will overtake Ellie Goulding's January record for 'Love Me Like You Do' with 173,000 sales, and cementing Adele's status as the artist EVERYONE is taking about right now.
Check out what some of Adele's BIGGEST fans are saying about the track after hearing it for the first time last week:
@CapitalOfficial @OfficialAdele 's new song is just amazing! I love it. I've been waiting for this moment for 3 years. #HelloOnCapital

— filiiiiiip (@jjj2788) October 23, 2015
#HelloOnCapital @adele Amazing voice - love it!

— Heather Gil (@hgilx) October 23, 2015
Adele's new song 'hello' is awesome. She is such an amazing singer. @Adele @CapitalOfficial #HelloOnCapital #CapitalFM

— Sara Kirkbride (@saraslife_98) October 23, 2015
This song is incredible #HelloOnCapital

— ICE QUEEN (@arianasgranxde) October 23, 2015
that was so magical !! #HelloOnCapital @adele

— almaha alotaibi (@4OTB) October 23, 2015
Adele's new track though @CapitalOfficial @Adele #HelloOnCapital

— katee (@bamitskate) October 23, 2015
@CapitalLondon Adele's Hello is amazing what a voice, what a song!!!! #HelloOnCapital

— Harry Cunningham (@_hjcunningham) October 23, 2015
We first got to hear a snippet of the new track in an X Factor ad break over the weekend, with a mysterious clip appearing with no explanation... but fans were quick to put two and two together when they heard that iconic voice.
Adele also took to her official Facebook page last week to explain to fans exactly why her new album has taken a little longer to release, saying she needed the extra time to get to know herself.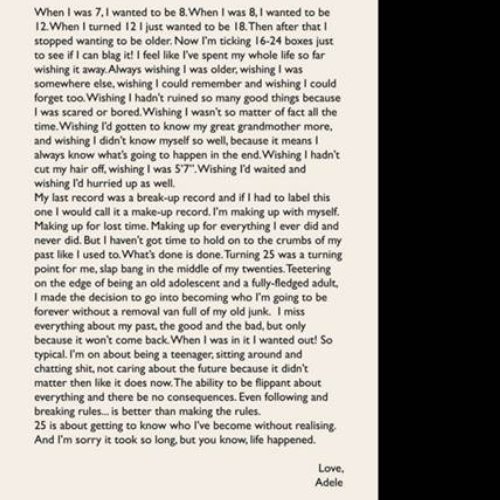 Keep it Capital from 8am tomorrow to hear the first play of Adele's new song, and let us know what you think on Twitter @CapitalOfficial using the hashtag #HelloOnCapital.