Adele Confirms She May Never Tour Again With This Emotional Handwritten Note To Fans
28 June 2017, 16:45 | Updated: 28 June 2017, 16:58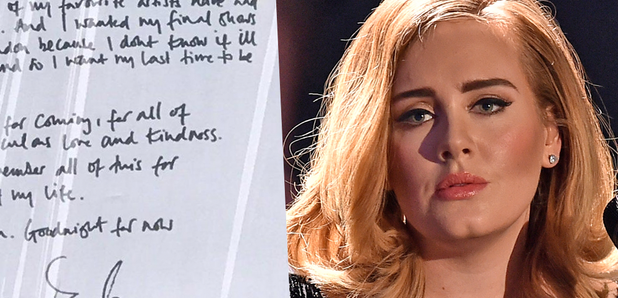 Fans shared pictures of Adele's powerful words ahead of her Wembley show...
Having taken her tour all over the world throughout 2016 and 2017, it seems Adele has decided to hang up her touring boots and take a break from the road...potentially forever!
She's set to perform four HUGE shows at the incredible stadium in London, starting tonight, and has shared a handwritten note with fans inside their programme which they can purchase as they enter the venue.
> 12 Times Adele Was TOTALLY Herself And Didn't Give A Flying You-Know-What
One fan shared a picture of the note on Instagram...
The note written by Adele reads, 'So this is it after 15 months on the road and 18 months of 25 we are at the end. We have taken this tour across UK + Ireland, throughout Europe, all over America and I finally got to go to Australia and New Zealand too.'

'Touring is a peculiar thing, it doesn't suit me particularly well. I'm a real homebody and I get so much joy in the small things. Plus I'm dramatic and have a terrible history of touring. Until now that is! I've done 119 shows and these last 4 will take me up to 123, it has been hard out an absolute thrill and pleasure to have done.'
'I only ever did this tour for you and to hopefully have an impact on you the way that some of my favourite artist have had on me live. And I wanted my final shows to be in London because I don't know if I'll ever tour again and so I want my last time to be at home. Thank you for coming, for all of your ridiculous love and kindness. I will remember all of this for the rest of my life. Love you. Goodnight for now'
We can't deal with the thought of not seeing another Adele tour in the future, especially after she releases another incredible album (which is bound to happen, let's be honest!).
Fans reading Adele's message ahead of the show will be delighted that they managed to secure tickets to what could be her final ever tour and there are bound to be a few tears shed on the closing night.
This comes after another fan shared a brilliant message that appeared on a Transport For London board at Wembley station which cleverly referenced a number of Adele's songs...
She's been one of our fave performers during the last few years and this video of her being chased by a bat was easily one of our favourite Adele moments...