50 Cent Accidentally Made £5 Million From Bitcoin By Doing Absolutely Nothing
24 January 2018, 14:44
The online currency looks as though it's made New York rapper 50 Cent a few million pounds richer!
Back in 2014, G Unit rap mogul 50 Cent released an album entitled 'Animal Ambition' and whilst he accepted the usual methods of payment for it, he also allowed people to purchase the release using internet currency Bitcoin.
At the time it cost people a fraction of a Bitcoin to buy the album and one whole Bitcoin was worth approximately $662. From sales of the album online, 50 actually received 700 Bitcoins ($400,000) and then left the currency sitting in his bank account. In 2018, those coins are worth a LOT more.
> Drake Accused Of Stealing New Single's Artwork... And The Evidence Looks Pretty Legit!

In 2018's economic state, Bitcoins are actually worth between $10,000 and $12,000 per coin, so after doing a bit of quick maths, that means Fiddy's coin haul is now worth between $7,000,000 and $8,000,000 aka £5,000,000.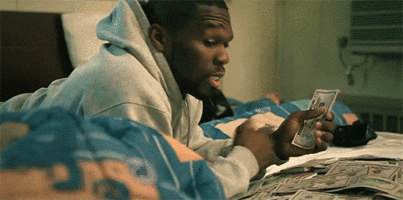 (GIF: Giphy)
50 Cent was the first artist ever to accept Bitcoins as a payment for one of their albums and it look slike it's been a very shrewd business move by the serial entrepreneur.
This bit of Bitcoin money making isn't the only smart move 50 has made in the business world - he's invested in several successful deals that have seen him rake in millions of dollars.
Not only does he own Cheetah Vision, a production company that makes low budget action films, but he also made millions when Coca Cola bought drinks company Vitamin Water, with his shares said to be worth $500,000,000.
> Download Our Fancy New App For All The Latest Music News!
Whilst you're here, check out James Arthur doing his best 50 Cent cover...