5 Seconds Of Summer On Seeing Harry Styles Naked: "It's Traumatising"
24 March 2014, 14:14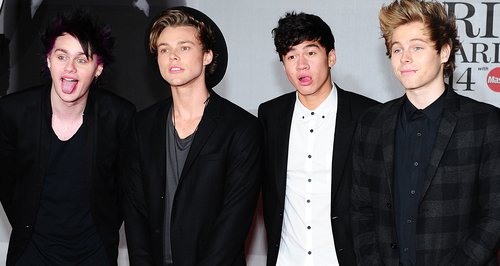 The Australian band discuss their close friendship with 'Midnight Memories' stars One Direction.
5 Seconds Of Summer have opened up about their friendship with One Direction and say they were left "traumatised" after seeing Harry Styles naked the last time they were on tour together.
The 'She Looks So Perfect' band, whose debut single hit number one on the Vodafone Big Top 40 yesterday (23rd March), say they have become very close with the 'Midnight Memories' four-piece over the past year.
"They are really sweet guys and they support us so much and hopefully they let us support them back," 5SOS' Ashton revealed to MTV News. "we have nothing but good things to say about them, they are so hard working."
However the boys went on to recall an incident the last time they touring together when they saw a little too much of One Direction star Harry Styles.
"All I remember is Harry coming in to our room, stealing all our fruit, throwing fruit at us, tipping our tables over and running away naked," band member Michael explained. "It's traumatising".
5 Seconds Of Summer are set to support One Direction in the US this summer on their 'Where We Are' tour.
"We just waited and they asked us to come back out again. It was amazing. It's going to be so huge for them and they are going to put on an amazing show and hopefully so are we. It's going to be an amazing time.