5 Seconds Of Summer On One Direction Comparisons: "We're Not The New Anything"
9 April 2014, 12:04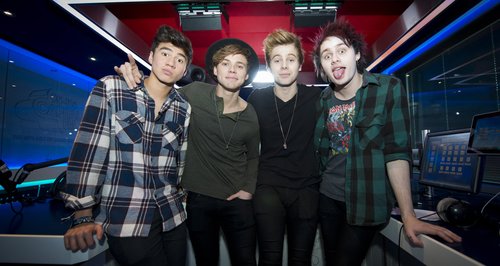 The Australian band say they have a lot to offer that is different from other groups out there.
5 Seconds Of Summer have opened up about comparisons of them to One Direction and say they are a "lot different" to the UK boy band and don't want to be "the new anything".
The 'She Looks So Perfect' four-piece, who reached number one on the Vodafone Big Top 40 last month, say they are "exactly the band that we want to be", and are excited abut showing people what they're capable of.
"We were a bit worried at first. People were already calling us the new One Direction in Australia, but in our minds we're a lot different from them," 5SOS' Ashton Irwin explained to Billboard. "We play guitars. We're rockier. But we thought that if you put us right next to each other, it would actually show people how different we are."
Band member Luke Hemmings also opened up on the comparisons but insists they have a more 'rock and punk edge" that the 'Midnight Memories' five-piece don't.
"A lot of bands have to change what sound they are, but we are exactly the band that we want to be, a pop band, definitely, but we've got a rock and punk edge," Luke explained. "We're not trying to be anything that we're not. We're not the new anything. We're the first 5 Seconds Of Summer."
You may also like: