Niall Horan Is 5 Seconds of Summer's Biggest Fan And Here's The Proof
20 June 2018, 15:49 | Updated: 20 June 2018, 15:50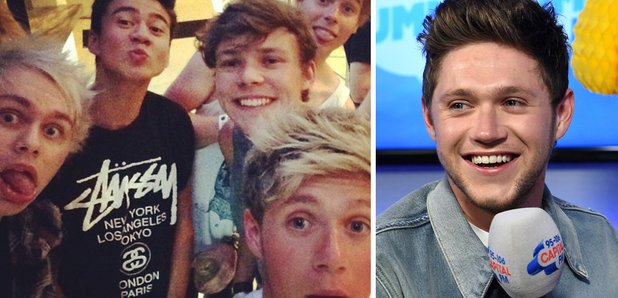 Nobody stans 5SOS harder than Horan.
So you think you're a pretty big 5 Seconds of Summer fan?
You've got the merch, you've been to the shows and you know absolutely every word to every song... backwards. Well, we're sorry to say, there's still someone who loves Ashton, Calum, Luke and Michael more: enter Niall Horan.
> 5SOS Reacted To Solo One Direction Work And Their Faces Are PURE GIF Worthy
Niall's made no secret of his 5SOS fandom in the past and with the band's new single 'Youngblood' racking up millions of streams and YouTube views, the Irish charmer is back stanning his mates from Down Under.
The One Direction star has called upon his 40 million Twitter followers to support the track, tweeting: "This has got to be the number 1 record this week. Go get it ! @5SOS". Niall also tweeted the boys directly saying: "love the new record gents . All that hard work was worth it . Congrats !"
In honour of his latest obsession, here's further proof that Niall is the biggest 5SOS fan going...
1. When Niall surprised his boys
This is exactly how we'd react if Niall walked into the room too.
2. When Niall crashed 5SOS' livestream with a big announcement
Niall announced that 5SOS would be supporting One Direction on their European tour in the most spectacular way possible.
3. When Niall wished Ashton a Happy Birthday
Niall saying Ashton has a "heart of gold" is just the sweetest.
Happy birthday to one of the nicest guys I've had the pleasure of meeting! Heart of gold he's god ! @Ashton5SOS pic.twitter.com/wuxfmmjaUA

— Niall Horan (@NiallOfficial) July 7, 2014
4. When Niall first introduced the world to 5 Seconds of Summer
Niall was with the boys from the start, tweeting a video of the band back in November 2012.
Just been showed this video – TUNNNEEEEE! http://t.co/vhekkwOt

— Niall Horan (@NiallOfficial) November 26, 2012
5. When Niall congratulated the band on their tour
We bet Niall even paid for his own ticket he's just that nice.
great to see the 5sos do an amazing job @theforum tonight ... So proud of them.

— Niall Horan (@NiallOfficial) September 8, 2016
6. When Niall became mates with Luke's mum and dad
"You're not friends, you're family"
7. When Niall got his week-old nephew on the 5SOS hype
Spot the 5SOS tee. We see what you're trying to do Niall... and we like it.
8. When Niall tried to join 5 Seconds of Summer
Niall's ready to put the '5' in 5 Seconds of Summer.
9. When Niall couldn't wait to see the boys again
Look how excited he is to see them! So cute!
@5SOS havnt Seen you lot in ages! Looking forward to seeing Ya boys ! Gona be a good laugh !

— Niall Horan (@NiallOfficial) February 22, 2015
10. When Niall congratulated the band on their tour (again)
Is anyone keeping count of how many times Niall's seen 5SOS live?!
Congrats @5sos ! From what I've heard! A hugely successful trip to Europe this week! great t see huge crowds comin to see the lads!

— Niall Horan (@NiallOfficial) April 4, 2014
It's pretty clear to see - Niall Horan is 5 Seconds of Summer's biggest fan. Case closed.
> Grab Our App To Stay In The Loop About All Things 5SOS (And Niall OFC)