5 Seconds Of Summer Reveal All About Their Own Record Label And Their Second Album
30 March 2015, 14:36 | Updated: 31 March 2015, 09:51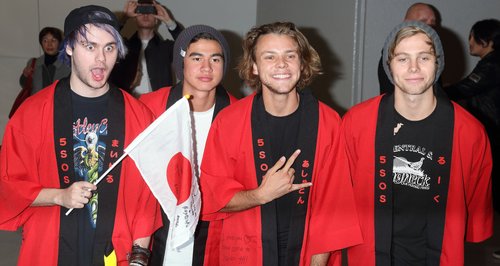 The boys have already signed their first act for Hi Or Hey Records – and their new album sounds like it's shaping up VERY nicely!
No-one could ever accuse the 5 Seconds of Summer boys of being lazy – as well as conquering the world with their music and embarking on an arena tour, they are also working on their second album AND building up their own record label. Phew!
5SOS founded Hi Or Hey Records as an offshoot of Capitol records and have alreasy signed their first band, Hey Violet. Calum Hood explained their decision, "We initially started the label so our fans could feel in control of what we do."
And we've finally found that band!! So introducing you all to our first ever @HiOrHeyRecords signing... @HEYVIOLET ! http://t.co/ps4GuH5SQd

— 5 Seconds of Summer (@5SOS) March 24, 2015
"A band is more than just music. It's a whole creative cycle and you really have to mark your label on everything you do. And then we were thinking, 'How about we just start signing bands we really like?'
Ashton Irwin added that they knew Hey Violet were right for them straight away, "We had an image of what we wanted the bands [we sign] to sound like and look like and stand for, and we saw them play and it was exactly what we wanted. We fell in love with them right away. It was an on-the-spot decision."
As well as supporting other artists, 5SOS are busy rehearsing for their 'Rock Out With Your Socks Out' arena tour and it sounds like the boys are pretty excited to hit the road.
Ashton admitted, "Putting together an arena show has been an incredible experience. When we played the Forum in November, it really inspired us. To think we're playing similar-sized venues this whole tour is really insane. It's a dream come true."
"The main thing for us is the fans have a great time and they want to come back for years. So we put everything we have into it, energy-wise, and we leave the stage having given it our all."
And with such a hectic schedule, it's a wonder they find time for anything else – but Michael Clifford revealed that their second album is also nearly done.
He explained, "We've written most of it, and we're recording it now. We'll release it when it's right, whether it's on the tour or at the end of the tour. New music will definitely be out this year."
Exciting! And if you liked 'Amnesia', the boys have been working with co-writers Good Charlotte on the new album too.
Luke Hemmings revealed, "They've had a big role in the album this time, even more so than the last album. It's been really fun. We really look up to them, their whole movement as a band. It's amazing they're on board with us. They're great dudes."