The 5 Seconds Of Summer Boys Give Us EXCLUSIVE Insight Into Their NEW Album
19 June 2014, 09:30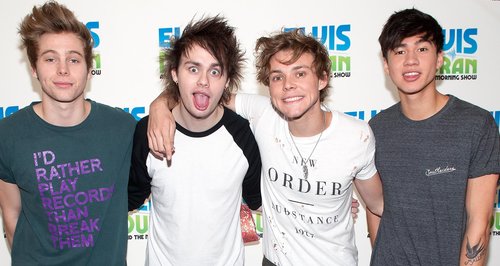 Listen to our chat with Calum, Luke, Ashton and Michael ALL about their album launch this month.
The 5SOS boys give us an EXCLUSIVE insight into their brand new album… with just ONE week to go before the big launch!
5SOS tease the launch of their new album...
5 Seconds Of Summer are fully focused on making their debut at the Capital Summertime Ball 2014 with Vodafone this Saturday (21st June), but we JUST about found time to have a quick chat about their new record.
The Australian boys drop their self-titled debut record at the end of this month, and Ashton, Calum, Michael and Luke cannot WAIT for fans to hear what they've been working on.
"Dude we've worked on it for two years," 5SOS told Capital's showbiz reporter Kevin Hughes. "We really hope the fans love it, everyone loves it.
"Some people might hate it, doesn't matter! We're really proud of it and we can't wait to show the world what we've been working on.
"It's been totally good to work with some of our inspirations and stuff like that. Some of our like childhood heroes," the boys added. "The Madden brothers, we're just working with John Feldmann every day, like he's produced all of our favourite bands, like Good Charlotte and stuff like that. It's cool"
The boys drop their NEW album '5 Seconds Of Summer' on 30th June… so get ready for your preview this Saturday (21st June) at the Summertime Ball!

The Countdown To The #CapitalSTB Is ON!
You may also like...